RETAIL
Acne Studios to Melrose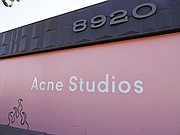 Swedish label Acne Studios made headlines in 2013 for placing a risky bet on downtown Los Angeles when it opened a 5,000-square-foot emporium on the corner of Ninth Street and Broadway in the Fashion District.
At the time, this was a new neighborhood for high-end retail.
Fast-forward a few years and now Acne is scheduled to open a store in a more conventional retail neighborhood with a spot at 8920 Melrose Ave. in West Hollywood, Calif.
The new boutique is scheduled to open sometime this coming spring. Acne's West Hollywood neighbors will be pioneering boutique retailer Maxfield as well as boutiques for Helmut Lang, James Perse and the Eskandar brand.
A block east, on the corner of Melrose Avenue and Robertson Boulevard, there's a John Varvatos flagship. The main drag for the fashion section of Robertson Boulevard is about a five-minute walk south.
Japanese-headquartered streetwear brand A Bathing Ape also is scheduled to open a store on the Melrose Avenue block between Robertson Boulevard and North Almont Drive.
Jay Luchs brokered the deal to bring Acne Studios to Melrose. He said that Acne and Bathing Ape might be the last fashion stores to move onto this block for a while. "It's a true neighborhood block," said Luchs, vice chairman at Newmark Knight Frank. "It's a great local block with great brands. You're not going to see big development there."
Acne's new 1,650-square-foot shop formerly housed an art gallery. It's a fitting segue for the art-inspired Swedish brand. The downtown Los Angeles location features art installations such as Giant Triple Mushroom, a sculpture by Carsten Höller. His work has been exhibited at the Museum of Contemporary Art, Los Angeles and at the Fondazione Prada, a museum co-chaired by Miuccia Prada in Milan.
Acne Studios did not return a request for comment by press time.