TRADE SHOWS
Business as Usual is Good at CALA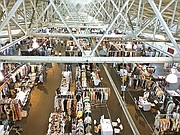 The last time the contemporary trade show produced its San Francisco event, Nov. 8–9, it opened on the day of the hotly contested presidential election. News of Donald Trump's win dominated the trade show, said Lauren Butler, a sales representative for the Focus Showroom.
"It wasn't a normal show," she said. "The whole conversation was about what was going on. It halted sales."
Fast forward a few months to the recent CALA show in San Francisco Feb. 1–2. While politics continued to be a major topic, people got back to business. "It was back to the CALA we all know," Butler said.
CALA's booth space was sold out at its most recent run at the Festival Pavilion at the Fort Mason Center for Arts & Culture in San Francisco's Marina District. On a clear day, landmarks such as Alcatraz Island and the Golden Gate Bridge could be seen from Fort Mason. According to Robert Murtagh, one of the show organizers, 503 brands exhibited at 153 booths. There were about 769 buyers attending the show, with 490 shopping the show on the first day and 279 coming on the second day. Booth real estate and attendance levels were about even with the first CALA show of 2016, Murtagh said. CALA produces five shows in San Francisco and three shows in Denver annually.
Other vendors and retailers said they thought business would increase post-election and post-holiday. Amy Anderson, owner of the Viva Diva boutique in San Rafael, Calif., shopped CALA's most recent show.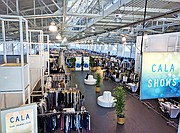 "We feel better than the previous year; people are getting ready to shop. They are tired of not shopping," Anderson said. She noted that her 20-year-old boutique came off a profitable holiday season.
Dotan Shoham, cofounder of the brand Gypsy05, started the year with hiring three new salespeople and working with new showrooms. His brand exhibited at the show.
"People have been cautious about buying for the past year," he said. "But people want to bring in new deliveries to their stores." In a nod to the election, Gypsy05 designed a collection called "Making America Great Again." It shows red, white and blue colors and will be delivered in July. There's a sense of humor infused in the collection, Shoham said, but it also offers a sentiment of bridging divisions.
Retailers seen at the show included StitchFix, a San Francisco–headquartered online subscription and personal-shopping retailer; Nicolette, a boutique in the Marin County town of Larkspur, Calif.; and Specialtees, a boutique based in Lafayette, Calif., as well as buyers from hotels, wineries and various locations for fitness studios such as Pure Barre.
CALA is a key marketplace to sell to Northern California retailers, said Sylvana Lankshear, founder of the Focus Showroom. "It's a show that accommodates local retailers who are not traveling to the LA Fashion Market or New York. It's a very important territory," Lankshear said of Northern California. "There is a lot of tech industry and a lot of potential customers."
At CALA, Focus debuted Maven West, a made–in–Los Angeles contemporary line; Fifteen Twenty, a contemporary line made by prominent Los Angeles designer Karen Kane; and Danish contemporary brand Soaked In Luxury.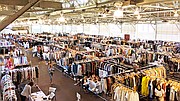 Another vendor, Ben De Luca, said buyer traffic was steady at the show and that business was solid.
"It was a little cold the first day. It rained the second day," he said. "We were worried that it was going to pour and no one would come, but that didn't happen." De Luca is vice president of corporate sales and brand manager and designer of the Brooklyn Hat Co.
At CALA, he exhibited the Brooklyn Hat Co.'s Fall 2017 collection. Styles included hand-painted hats constructed out of Australian wool as well as big-brim fedoras, floppy hats and cloche hats with a leopard-print fabric.
At the end of a cold winter, Tavia Annicharico, head buyer for the Ambiance San Francisco stores, was looking for more cold-weather items at CALA. "It's been a real wintery spring, and we're looking for cozy spring items," she said of buying merchandise for a city known for cool weather. "Sometimes my vendors think I am kidding when I say that I want sweaters in July, but you can always sell a sweater in San Francisco."
At CALA, Annicharico bought items from vendors such as Z Supply, Free People, Michael Stars and Paige. At the show, styles that seemed popular were "cold shoulder" tops and dresses, which leave shoulders bare. Another prominent style was denim with frayed hems as well as distressed styles featuring holes and some worn-down fabrics.
Anderson of Viva Diva also saw a lot of cold-shoulder looks at the show. Jeans with a lighter color wash also seemed more prominent at this show, which was something new for Northern California, where people often wear jeans with darker washes, she said.
At the show, she ordered denim from labels such as Hudson, AG and Mother Denim.
Photos by Robert Murtagh.