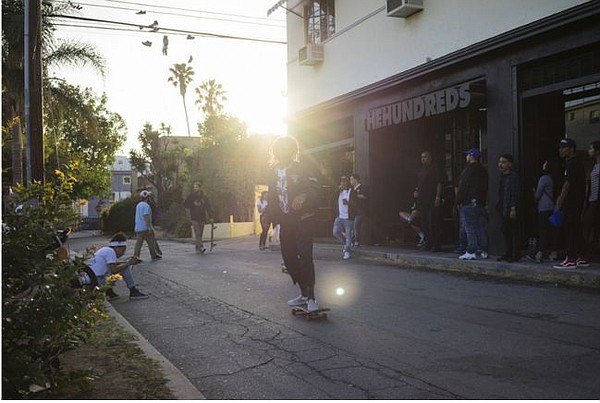 Ten Years for The Hundreds
A decade is an eternity in the boutique business, and Los Angeles' streetwear brand The Hundreds is taking the month to celebrate its big shop.
The flagship for The Hundreds in Los Angeles' Fairfax District is observing its 10 years of biz at 4902 Rosewood Ave., a feat in a business where many shops open and close in a matter of a couple years.
The brand is in the midst of producing a few events to commemorate 10-years of hustling, serving as something of an anchor for streetwear shops on Fairfax, and living by the brand's slogan The Hundreds is huge.
On Feb. 3, the group produced a 10 years anniversary party at the store. On Feb. 9, there was a question and answer session with brand founders Ben and Bobby Hundreds. On the weekend of Feb. 23, a photography show is scheduled at the flagship. On March 1, an event with poke and ceviche restaurant Tikifish is planned, followed by a comedy show the next day. More events might follow, stay tuned at this Hundreds channel.