RETAIL
Airport Retail Next Big Step for M.Fredric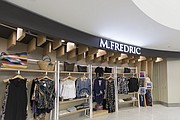 For one store in the Los Angeles–headquartered M.Fredric chain, some of the busiest and most lucrative hours are between 6 and 9 a.m., long before most bricks-and-mortar retail stores are thinking about opening their doors.
A schedule of early-morning hours might shock many retail workers and mall managers, but 6 to 9 a.m. is the time when a big rush of people is coming through one of the Los Angeles area's most below-the-radar malls—Los Angeles International Airport.
Fred Levine, M.Fredric's co-owner, believes the next era of opportunity for physical retail lies in airports, where people often can't leave before flights and can be cooped up for hours.
"Our experience is that we can do thousands of dollars per square foot at airports compared to hundreds of dollars per square foot on retail streets," Levine said.
"The new crop of airport shops is a break from the past," Levine said. "It's not novelty, souvenir items. It's serious fashion. It is a boutique like you see at high-end malls," he said.
The M.Fredric shop at LAX's Terminal 6 has been open for more than one year. Levine plans to partner with airport retailer Hudson Group to open more M.Fredric stores in airports across North America. With Hudson, M.Fredric also opened a store at George Bush International Airport in Houston. On the horizon is an airport shop at the Dallas/Fort Worth International Airport this year.
In April, Hudson is scheduled to change its flight itinerary and open a shop at the Hard Rock Hotel in Las Vegas. The venue is scheduled to be called Night and Day and will feature an M.Fredric area that will be merchandised by M.Fredric buyers. The 37-year-old retailer runs nine bricks-and-mortar boutique locations in Southern California, an e-commerce shop and an outlet location, along with its airport locations.
In the United States, airport retail was the domain of newsstands and duty-free shops for decades. But in the past few years airports have been remodeling with higher-end retail and dining in mind. Miami International Airport features shops with nameplates such as Coach, Michael Kors, Thomas Pink, Emporio Armani and Desigual. Overseas, fashion house Louis Vuitton opened boutiques in Heathrow Airport in the United Kingdom and Incheon International Airport in South Korea.
Michael Levy, Hudson's senior vice president and senior merchandising officer, said that waits in airports have gotten longer because of security and layovers. "Airports truly want entertainment and shopping for their passengers," he said of the new wave of high-end retail.
In October, Los Angeles World Airports and shopping center company Westfield formally unveiled a new retail and restaurant section in LAX's Terminal 6. It features 22,299 square feet of retail and dining, which includes the M.Fredric space and a shop for accessories brand Tumi. Westfield also developed retail in LAX's Terminal 2, which officially took a bow in February 2016. The terminal includes a store for the Spanx brand. Other retailers doing business in other terminals at LAX include Bulgari, Rip Curl, Victoria's Secret, Michael Kors and Fred Segal.
While airports can cater to crowds of travelers with fat wallets and a lot of time to kill, opening a shop in an airport has little in common with opening a store in a mall.
Retailers typically partner with a big company such as Hudson to produce airport stores. To open an airport store, retailers must submit a bid to a government body managing the airport. If a bid is accepted, it could sometimes take up to a year to open the store, Levine said.
Merchandising an airport store is similar to merchandising a boutique on a typical retail street, Levine said. Pants, coats and shoes are all part of the merchandise mix at airports.
However, many airport retailers have limited space. The LAX M.Fredric is 270 square feet. "It's so small that I pick only the best of the best. I only give the airport what has tested really well at my other stores. I would never test a brand there. You'll only get the cream of the crop," he said.