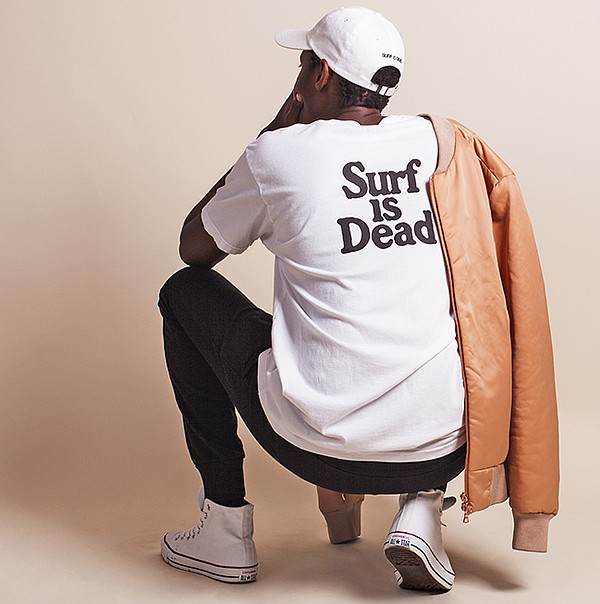 SURF IS DEAD
Surf Is Dead Looks for New Fashion Wave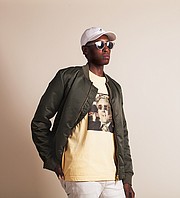 Chris Josol was surfing with some friends in 2015 when the conversation turned to the state of surfwear, which had seemed—to Josol and his friends—to have lost its rebellious, experimental spirit.
"Surf is dead," Josol recalled saying. His friends laughed, but the avid surfer and fashion veteran thought the quip described the state of surf fashion.
Independent streetwear and skatewear brands had captured the imagination of many people involved in action sports. Most distressing for major surfwear companies, street and skate lines had captured some market share from a category that had been dominated by surf. Someone had to revive surfwear's rebellious and experimental spirit. Josol thought it could come back with a mordant humor. He introduced the Surf Is Dead brand in July with a collection of T-shirts bearing the brand's apocalyptic slogan. Yet the words "Surf Is Dead" seemed closer to streetwear satire than surfwear's "stoked" style. It's part of the brand's ethos.
"It's an underground surf brand. It's a boutique brand, but it all ties back to surf culture," Josol said.
Josol, who also runs the Los Angeles fashion showroom companyFlagship Agency, placed the new brand in high-end shops such as American Rag CIE; Need Supply Co., headquartered in Richmond, Va.; as well as Japanese retailer United Arrows. Josol started the brand with Flagship partner Adam Ahdoot and designers Brett Page and Oscar Rodriguez.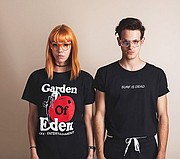 While the major surf brands such as Quiksilver should continue to dominant the market, there has been growing interest in independent surf brands, said Kelli Koller, the owner of the Seventh Wave Surf Shop in Long Beach, Calif. "It's like anything in retail; people are looking for what is fresh and what is new," she said. Seventh Wave devotes its shelf space to indie surf brands. In the past few years, independent brands have received more notice from trade groups such as the Surf Industry Manufacturers Association . In recent years, the Laguna Niguel, Calif.–based group has bestowed its annual Image awards to independent brands such as Roark Revival and Captain Fin Co.
Surf Is Dead is manufactured in Los Angeles. The line's tops sport bright pastel colors such as mint, peach and turquoise, which was inspired by surf looks of the 1980s. There also is a will to experiment with the line's silhouettes. Surf Is Dead's mixed-media top has a fleece body with woven sleeves.
Josol wanted to make clear that this brand also seeks to cut an alternative from a lot of current surfwear. There's no use of performance fabrics designed for sports. The emphasis is on comfort. Fabrics for fleece are treated with an enzyme wash to create a buttery feel to the fabric, he said. Wholesale price points range from $22.50 for T-shirts to $80 for jackets.
For Spring 2017, the brand will seek to slide into traditional surf categories. Its "Stranger Waves" Spring '17 line will offer a men's boardshort and a women's one-piece bathing suit.
Surf is getting ready to ride back to the top of the world's obsessions, Josol forecast. This year, the International Olympic Committee unanimously voted to make surfing an Olympic sport. It will take a bow at the 2020 Tokyo Olympics. Also, the sport could soon break into new markets far from any ocean. WSL Holdings, parent company of World Surf League, announced that it would acquire Kelly Slater Wave Co. The company, owned by champion surfer Kelly Slater, plans to introduce a wave-making machine that can bring waves to almost any body of water. Surf fans such as Josol hope it could popularize the sport of surfing far from its roots in Hawaii and Southern California.
For more information, contact sales@surfisdead.com.