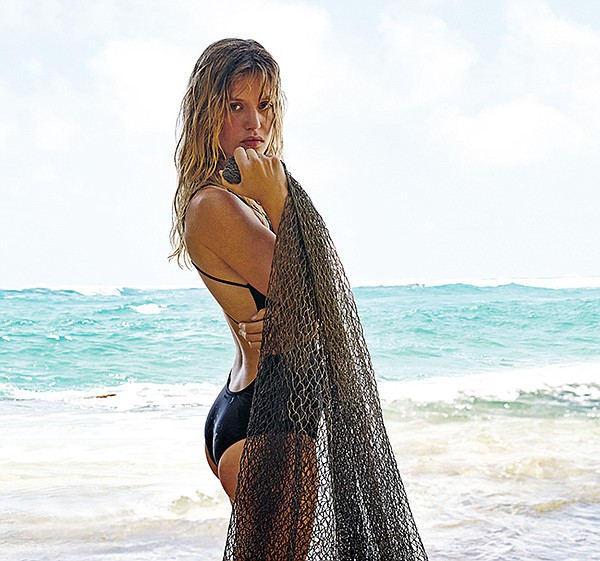 VOLCOM
Volcom's Net-Worth Project: Action-Sports Label is Looking to Save the Oceans One Bikini at a Time
That cute bikini could save the world's oceans.
Clothes can save the world's environment, according to Volcom, the action-sports label headquartered in Costa Mesa, Calif. That mission statement is focused on changing the way Volcom makes clothes so the multimillion-dollar company can cut back on manufacturing pollution. Volcom's Spring '17 line of "Simply Solid" women's swimwear—which is the label's most-popular women's swim line—aims to be the bull's-eye on that ecological target.
The latest Simply Solid collection features key styles that stand out at the beach. There are two-piece suits, maillots and colorful rash guards, all retail priced from $32 to $85.50. But the line's eco-point of difference is the fabrics used in the line, said Lindsey Roach, Volcom's head of women's business.
The line is 78 percent made out of ECONYL fiber, a fiber made out of regenerated nylon waste. Think of carpet fluff, production scraps and—most important to the surf-obsessed Volcom—abandoned fishing nets. "We wanted this collection to be more than beautiful patterns and functional pieces, so the fact that it is made with recovered fishing nets creates a natural connection to surf culture, which fully understands the value of keeping the ocean clean," Roach said.
Volcom worked with Italian company Aquafil on Simply Solid's Spring '17 line. To create ECONYL, Aquafil works with independent fish farmers, the wider fishing industry and the nonprofit Healthy Seas Initiative to recover fishing nets from the ocean. At Aquafil's factory, the waste is transformed into the soft rayon and spandex-like material.
Derelict fishing nets can entrap and kill marine animals, and the junk also pollutes the world's oceans. Giulio Bonazzi, president of Aquafil, said that for every 10,000 tons of ECONYL produced, 12,600 tons of ocean and factory waste are eliminated, 70,000 barrels of crude oil are saved and 42,000 tons of CO2 emissions are avoided.
A commitment to the oceans is only one hoop the Simply Solid line had to jump through, Roach said. Style is paramount. "If it doesn't fit right and look right, no one cares if it is sustainable," she said. "It's important to say that we have a product that looks great and feels great, and by the way it is good for the environment as well."
The eco-line's looks range from crop tops and classic triangle tops to skimpy bottoms and those with fuller coverage. There's a tri-colored bodysuit with a zipper that can provide a plunging neckline.
The colors of the bathing suits dive into fashion, said Marina Hamm, Volcom's women's swimwear manager. "They're really bright, classic swimwear colors," Hamm said. "Sometimes people just do browns and tans when they make sustainable clothes. They hit you over the head with sustainability, but they ignore what the trends are. We wanted the collection to be on trend."
To add sex appeal to the line, Georgia May Jagger—daughter of Mick Jagger and veteran of high-end fashion campaigns for H&M, Chanel, Miu Miu and Versace—signed on to appear in ads and other marketing ventures for Volcom's Simply Solid line.
A growing number of brands have experimented with making swimwear and other clothes out of sustainable fabrics. Speedo, Kelly Slater's Outerknown, Vissla, Adidas and G-Star are among those fashion labels that have manufactured sustainable clothes for the market. The process of making clothes out of sustainable fabrics can require re-creating the proverbial wheel, said Derek Sabori. He served as Volcom's vice president of global sustainability and currently consults with the company as its sustainability adviser. He also founded The Underswell, an online service covering products and sustainability issues.
"Think about it—it's a disruptive process," Sabori said. "You're looking at a system that others are seeing as fluid and 'working,' so why disrupt it? It can take a lot of communication, a lot of stops and gos, new price negotiations, new relationships formed, new quality tests, etc., etc., the list goes on. All of this takes time and commitment. In the end, however, it is worth it to have a story like the one that Volcom has with Aquafil or with [recycled nylon fiber] Repreve. These are differentiating brand storylines that allow Volcom, at the end of the year, to show progress toward their sustainability commitment in both a qualified manner and a quantified manner," he wrote in an email interview.
But how much of an impact can a clothing brand such as Volcom have on the environment? Can fashion save the oceans? This question was submitted to Sabori. "We know that the textile, apparel and fashion industries are influential ones. They are fast-paced, dynamic, exciting, and they are led by some of the most well-known brand names in the world," Sabori said. "If those brands can create a sea change in customer expectations and behaviors and can show real success economically and with sustainability initiatives, then why not? Maybe it's not such a far-fetched question."
Images courtesy Volcom