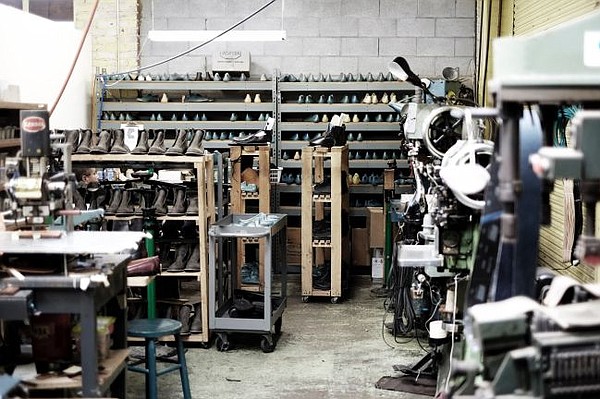 Broken Homme Buys Factory
Broken Homme is one of a handful of footwear labels made in Los Angeles County, and the label's local roots have grown deeper. Broken Homme's owners recently bought the factory where they have produced their motorcycle, fashion and work boots since 2012.
Broken Homme's Jim Leatherman and Josh Johnson raised $104,302 in a Kickstarter campaign which wrapped up in late December. With the proceeds, they acquired the factory for Paul's Boots, a workshop in Los Angeles' San Pedro section. It has been making work boots for longshoremen for more than 40 years.
Along with buying the factory, Broken Homme not only purchased new machinery for the space, they also acquired the Paul's Boots business. Leatherman and Johnson will add making longshoremen's work boots to their array of gigs, along with making Broken Homme's footwear and leather accessories, Leatherman said.
Broken Homme made a special footwear line for its Kickstarter campaign. Some of the boots are still available through an Indiegogo page, Leatherman said. Here's a link to it.