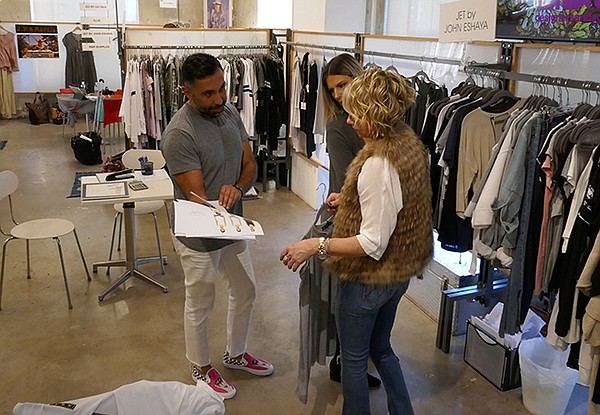 LA FASHION MARKET
Mixed Reaction to LA's Quiet Market
The parking was easy, the lunch lines were short and the halls were fairly quiet at the recent run of Los Angeles Fashion Market, which kicked off for some showrooms on Sunday, Jan. 15, with the rest opening the following day on Martin Luther King Jr. Day.
Some blamed the holiday for the light traffic, and others said retailers still have inventory left over from Christmas and aren't ready for new merchandise. Still, high-profile retailers such as American Rag, Ron Herman and Revolve shopped the market, and some stores were ready to place orders for pre-Fall deliveries.
"Monday wasn't bad. We had a good amount of appointments," said David Perlman, the owner of the Perlmanrep showroom in the California Market Center. Perlman said traffic was a little slower on Tuesday, but still retailers turned out, including a few large accounts and some out-of-state buyers.
"They're not ready to buy Fall," Perlman said. Most were placing orders for Immediate through Summer deliveries. But, he added, several of his brands were overcutting production orders to have goods on hand. And the showroom uses the Joor B2B platform for all its brands. "So we can tell what's in inventory."
Christie Danielson and Selena Slogar, owners of The Hanger Showroom and the Dakota Showroom in the CMC, had a similar response to market turnout.
"For January, we had a good market," Danielson said. "January is always hit or miss. It always revolves around the weather. Portland, Oregon, still has snow. They're not really ready for January drops of Spring."
Slogar said they saw local buyers as well as out-of-state stores from as far away as New York, Florida and Tennessee. Danielson said buyers were placing orders for deliveries ranging from Immediate to 9/30.
This season, the CMC combined several of its temporary shows—Select, ALT and Contemporary Curves—into a shared space in the Fashion Theater in the lobby.
The setup worked well for Amanda Aman, cofounder of Tustin, Calif.–based activewear line Glyder, who said it was a one-stop shop for buyers.
The 5-year-old company produces its own fabric, primarily nylon/spandex performance fabrics, many in original prints. Glyder releases a new collection every two months.
This was the second time Glyder had shown at ALT. In October, the show was located on the 13th floor of the building across from the Axis at Capsule show, which also focused on activewear lines. With fewer activewear lines showing this season, Aman said traffic was a little slower.
This was the first time at Select for Disciples of Denim, a new LA-designed and -produced collection of embellished vintage denim.
"We had a good reaction, said Nicole Jerahian, who designs the line with Paula Rinkovsky.
Jerian said the two saw several out-of-state retailers from as far away as Iowa and Miami.
"We did get a store in Laguna Beach [Calif.]," Rinkovsky added.
The collection includes vintage denim jeans and jackets as well as military pieces that have been reworked and embellished with embroidery and studs. Jerian and Rinkovsky can also do special sizes by request.
Mixed reports at The New Mart
For showroom managers at The New Mart, scheduling of the LA Fashion Market was completely off or it was just fine.
Buyer traffic was too light for Ashley Thweatt, showroom manager of Joken Style. "There's no fashion week, no parties; there's nothing to bring people in," she said of the mid-January calendar.
The recent market was the official Joken showroom debut for Bugatti-brand handbags as well as lines Ondade Mar, JG Knitwear and Blue Coast & Town. Showroom founder Eme Mizioch said that the showroom did get buyer traffic, but it was nothing extraordinary. The showroom was biding its time until next month, when the sprawling trade shows start in Las Vegas. "This [show] is for Southern California people looking for fillers," Mizioch said.
Stacey and Joel Gossman of The Gig Showroom agreed that the market's timing was off. Many manufacturers are not prepared for shows so close to the New Year. Stacey Gossman said that her showroom's action starts for shows in February. "That is when all of the samples are ready," she said. Until then, the showroom was selling Immediates.
Lynn Girard forecast that her self-named showroom's sales would increase 15 percent compared to last January. The recent market was a success at the Lynn Girard Showroom because it took place after the 2016 presidential election. "A lot of buyers were too careful in October," she said. With the election over, pent-up demand was released, she said.
Market timing was okay for Judy and Jerry Wexler of the Mystree Showroom. The January fashion market was scheduled a month before MAGIC, which gave buyers some breathing room. "When it's back-to-back, it's more difficult for buyers. They can't go to every market," Judy Wexler said. January gave some space to maneuver. She described the market's traffic as steady. Jerry Wexler estimated that only 15 percent of the January market's business was for Immediate deliveries.
The New Mart hosted a few new showroom openings during the recent market. Making debuts were the ML Fashion Group, Janelle Moore Sales, Strut LA and Cirana/Lapis.
The recent market was the last for Showroom 903 after a 25-year-run. Jennifer Lazurus, the showroom owner, notified her clients that she would be closing the showroom on Dec. 20, but she left a note with her closing announcement on the front door of the showroom during the market.
"I made everyone a lot of money. I'm proud of all of the friendships and all of my manufacturers were amazing," she said during an interview. She has joined Los Angeles–based Alliance Apparel as its vice president of sales. Alliance is a division of Revolve. "There was nothing bad going on. I was so lucky to have such a good run," she said of the business closure. "I was happy for a new chapter. On to the next challenge."
Newness at Cooper
The new year was a good time to move into a bigger space for the Focus Showroom. For the January market, it debuted a new, larger showroom on the third floor of the Cooper Design Space after spending four years on the building's second floor. The new space is 400 square feet larger than its former space, said Sylvana Lankshear, the showroom's founder. The new space is located immediately in front of the floor's bank of elevators.
"We definitely had an uptick in traffic," Lankshear said of the recent market. She credited the increase partly to being located in front of the entry to the third floor. It is a time of growth for Focus. The showroom hired two salespeople during the past quarter. For the new market, it also debuted BrandLab, an incubator and consultancy for overseas brands looking to do business in the United States.
The Cooper's AG Adriano/Namaste showroom also expanded its real estate. It added 1,200 square feet to its showroom space and unveiled the larger space during the market, said Mona Sangkala, the Cooper's leasing director.
Traffic during the January market was steady, said Israel Ramirez of the Siblings Showroom. There was enough traffic to keep Siblings' two temporary saleswomen occupied, but Ramirez estimated that traffic was even with the 2016 January market. He called the traffic solid even though conventional business wisdom says that every market should show year-over-year growth.
"The amount of stores to sell to is shrinking," Ramirez said. "But there's a new generation of boutiques."
Lien Vets of the Noella Showroom said that the light traffic would create post-market work for her. "The market has been okay," she said. "We definitely have to go on the road and send samples out. We have more work to do."
The Cooper was one of the buildings shopped by Kuo Yang, the founder of the Brigade LA boutique in downtown Los Angeles. Buyer traffic for the first LA Fashion Market was low, he said. "Buyers are not willing to spend the cost to stay in a hotel, and a lot of buying and selling is done online," he said. "But trade shows are necessary. They're always going to be there."
Sunday start at Gerry
Many of the showrooms at the Gerry Building opened on Sunday, which proved to be the busiest day for some.
"We were busy because I had appointments," said Julie Walls, owner of the Julie Walls Showroom, adding that Sunday was a good start to market.
"We did better on Monday because of the holiday traffic," she said, noting that most of the stores came from out of the area, including Oregon and Arizona.
Walls said the key to attracting buyers to market is to have new product releasing at market.
"Give them a reason to shop," she said.
Some of Stuart Marcher's regular buyers told him they were skipping LA Market this time.
"They told us they'd see us in Las Vegas," said Marcher, who co-owns the Julie & Stuart Marcher showroom.
"We had a few less stores this year than last year," he said. "It was challenging. There's still a fair amount of uncertainty, and people are sitting on their wallets," he said. "The stores that were here we did fine with. 2016 turned out okay—thank goodness. We're hoping for the best in 2017."
Arlene Henry, owner of Arlene Henry Sales, said buyers continue to wait before placing orders.
"If you have deliveries close to season, you'll do well," she said.
Small but busy at D&A
Designers and Agents has been producing trade shows at the January LA Fashion Market since 1997, and its first show of 2017 had a familiar rhythm.
"This market has always served as an opportunity for retailers to fill in on Immediate and closer-to-the-season deliveries and exhibitors to cap off the Spring selling season," said Barbara Kramer, cofounder of Designers and Agents.
"Additionally, brands that offer true Summer deliveries are able to bring new product to their audience. These Spring/Summer collections obviously have added importance for the West Coast, where seasonality is less of a concern," Kramer said.
There were 25 booths exhibiting at recent D&A show—about even with last January, Kramer said.
The Brothers & Sisters Showroom introduced the KMJ Kate McHale Jensen line at D&A. The Santa Barbara, Calif.–based line featured off-shoulder tops made out of men's shirting. The debut's efforts were not wasted because many buyers got to see the line, said Chris Seelig, the showroom's founder. "It's a small show," Seelig said. "The buyers still come because they need to buy, and we're here."
Kelsey Hiscano represented the Brooklyn, N.Y.–based Pip-Squeak Chapeau line at D&A. She also thought traffic was good. "It seems that everyone is working. That's great because it is a small show and you never know what to expect at a small show," she said.
A small show had qualities that bigger shows don't have, said Mattie Ilel of the JP & Mattie line. "It's less crowded, but sometimes you get to work more closely with a customer because it is small," she said. Her company, headquartered in Los Angeles' Arts District, exhibited one-of-a-kind vintage-inspired bags and batik dresses.
Karen Meena, vice president of buying and merchandising at the Ron Robinson boutiques, headquartered in Santa Monica, Calif., shopped D&A. She also said a smaller market had its advantages. "I found it easier to work. [Deliveries] are closer to the season. You can find what you need," she said.
During the show, she saw trends such as clothes bearing a light sand color as well as pinks, ocean blues and sky blues. Dresses and tops with a "cold shoulder," or silhouette bearing a wearer's shoulders, were popular. There were a lot of flowy tops as well as T-shirts made with a "burnout" cotton fabric.
Key retailers at Brand Assembly
Orly Dahan, owner of Los Angeles–based lingerie-inspired line Gold Hawk, said the January market was "not bad."
"I see the specialty stores here I want to see," he said.
This was the first time Michelle Anavim was showing Drew at Brand Assembly. The account executive recently joined the New York–based contemporary collection. Drew is made in New York using Italian, French and Japanese fabrics.
"Yesterday was pretty consistent," Anavim said on the second day of the show. "It was busier today. I saw a few really good stores. American Rag just came by."
This was Mary Morgan's second time at Brand Assembly. The director of wholesale for New York–based Roberta Roller Rabbit said last season was stronger.
"Yesterday there were a lot of people," she said. "But October was really good."
Created by Roberta Freymann, Roberta Roller Rabbit is a travel-inspired lifestyle line featuring women's apparel, childrenswear and home décor.
"Each season, we tell a story," Morgan said. "This season, it's back to India."
The current line features hand-block prints and dip-dyed styles.
This was the first time Verdad was showing at Brand Assembly, said Katharine Marinaro, whose company, 2899 Ltd., represents the collection designed by LA designer Louis Verdad.
"I opened five accounts," Marinaro said, adding that she saw buyers from Ron Herman in Los Angeles and Sublime in Telluride, Colo.
"Everyone knows Louis' fit," she said. "It's a couture cut at a contemporary price point."
One of the busiest booths at Brand Assembly was n:Philanthropy.
"We saw a lot of people from Texas, Miami, Chicago," said Meagan Lande, who handles West Coast sales for the New York collection. "Our line had been retailing for them."
Lande said about 80 percent of the traffic was from pre-booked appointments.
"We do so well here," she said.