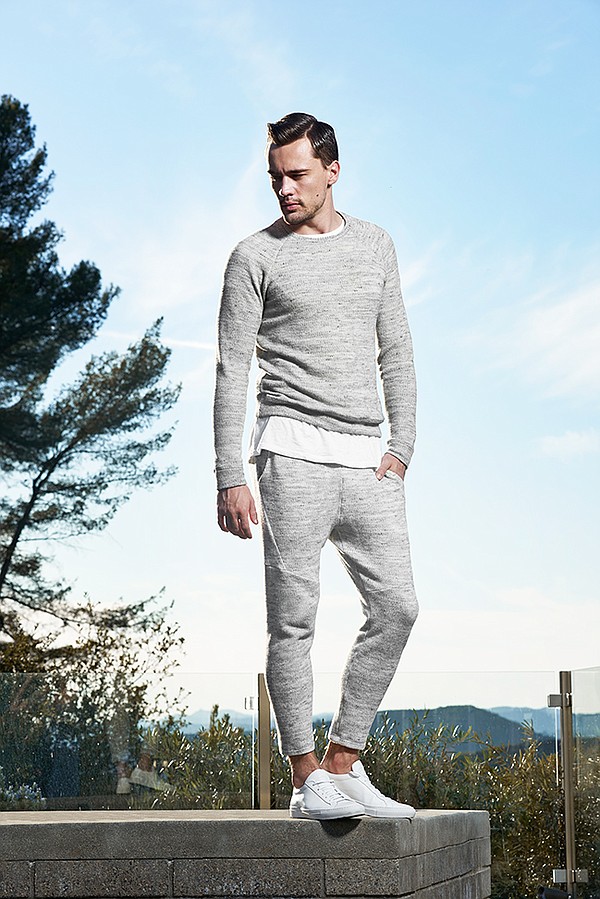 MIKA JAYMES
Mika Jaymes: Brand Wants New Look For Tees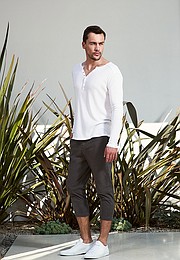 Roddy Javahery hopes to right a wrong against men's fashion—starting with T-shirts.
"In the basics area, elegance in men's clothing is lacking," said the veteran Los Angeles–based manufacturer. "You're either wearing a box or something super trendy. This is about making it a little more sophisticated."
Javahery was talking about his brand Mika Jaymes. The T-shirts and basics brand is made in Los Angeles, and it was officially introduced during the Jan. 24–26 run of the Capsule trade show in New York.
The brand takes its name from stylish characters—specifically, Javahery's sartorially sophisticated grandparents. It also is Javahery's first venture into branded clothing. He has spent the past two decades making private-label garments for clients such as Frederick's of Hollywood, Bebe and Hot Topic.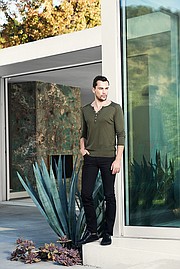 Mika Jaymes started as a design experiment, albeit one that would take inspiration from men's trends. For more than a decade, men's fashions have veered from boxy Wall Street suits and beefy T-shirts to styles that were skinnier and more fitted.
Javahery wanted to make his mark on this fashion wave. He made basic T-shirts for himself. The basics he wanted to design and wear would have a tailored silhouette and be constructed out of high-end and long-lasting fabrics. By the 100th or so time Javahery was asked where he got the T-shirt, he thought that he might be onto something, he said.
For much of his line, Mika Jaymes uses MicroModal fabric. The brand also offers a separate category of cotton/linen T-shirts.
Silhouettes include a deep V-neck T-shirt and a wide-neck shirt that exposes the wearer's collarbone area. Mika Jaymes' crew-neck shirt was designed to go deeper and wider around the neck than most crew-neck T-shirts. There are also tank-top styles. The shirts' debut season comes in colorways such as black, white, olive and heather gray. The brand also makes low-rise boxers in matching colors. The line's first season also features French terry jogger pants and sweat-pants as well as sweatshirts. Eventually, Javahery hopes to expand the brand's offerings into a lifestyle collection.
Wholesale price points range from $16.50 for tank tops to $50 for jogger bottoms.
For more information, contact info@mikajaymes.com or sales@blackcircleagency.com.