SWIM/SURF
Old Bull Lee: After Walk Shorts, Try Surf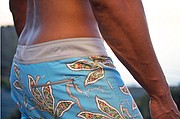 Rent a Manhattan Beach address, and it might only be a matter of time before you are in the surf business.
It should be part of Lee Johnson's story. He started the Old Bull Lee label in the affluent beach enclave in the South Bay of Los Angeles County. Old Bull Lee focused on making walk shorts and Oxford shirts. The label gained popularity with the cultured crowd who weekends in the Hamptons, outside of New York City; Texas; and at haunts such as the North End bar in Hermosa Beach, adjacent to Manhattan Beach. The bar is a favorite with local surf dogs and the NHL Los Angeles Kings team.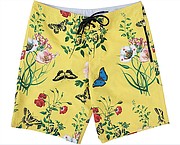 After Johnson sold his first walk shorts, South Bay surf guys kept peppering him with the question, "When are you going to make boardshorts?" After five years in business, in late 2016 Johnson decided to dive into the boardshort market. It wasn't a seamless transition. He found if men in the Hamptons lived in their walk shorts, California dudes lived in their boardshorts. Johnson extended Old Bull Lee's colorful prints to his new boardshort program. But he found that almost everything else about making boardshorts was different from making walk shorts. Cotton is fine for walk shorts. Boardshorts must use polyester and Lycra.
To manufacture Old Bull Lee boardshorts, Johnson traveled to the cradle of the surf industry—Orange County, Calif. This summer, Old Bull Lee is selling four-way flex boardshorts, which are particularly popular with the surf crowd. The label's boardshorts have a Lycra buttonless fly and a front pocket, meant to fit an iPhone, Johnson said. For more information, email info@oldbullshorts.com.