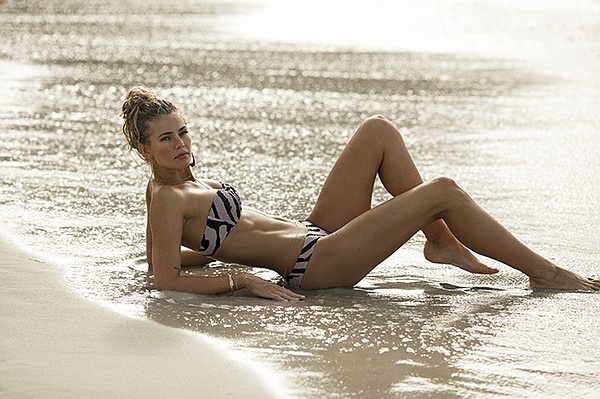 TORI PRAVER
Swimming in a New Direction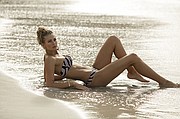 Tori Praver modeled for the Sports Illustrated swimsuit edition in far-flung locales such as the Canary Islands off of Spain, her home island of Maui, and Turks and Caicos in the Caribbean. This year she is going to be modeling for her own brand.
The blonde, blue-eyed Praver will be the ambassador for her self-named Tori Praver Swimwear. It's part of a new direction for her brand.
The model, designer and mother of two recently announced that she licensed Tori Praver Swimwear to Curynt Group, a Long Beach, Calif.–headquartered design and marketing agency cofounded by Summer Rapp, a swim/surf-industry veteran. Rapp's résumé features stints at Quiksilver, Volcom and Amuse Society, a brand she cofounded in January 2014. Curynt was formed in 2017. The agency is a collaboration between Add Black Design and In Private. The design and fashion consultancies have been doing business for seven years.
Also coming up, a new brand logo. The first looks of the collaboration will be showcased in the Tori Praver Resort '18 line, which is being presented in July at the Swim Collective trade show in Huntington Beach, Calif., and the Cabana swim trade show in Miami Beach, Fla.
Praver said that after more than six years of running an independent line, which included a collaboration with Target Corp., Tori Praver Seafoam, it was time to find strength in numbers.
"I felt like it was time to make a move, to collaborate and to grow the business in ways that I couldn't do alone," Praver said.
Praver will work with Rapp in design and charting the future of the brand. Rapp will serve as the creative director for the brand. "Our plan is to evolve Tori Praver Swimwear into a meaningful lifestyle swimwear brand to compete with the big guys," Rapp said.
Curynt will direct the brand's design, sourcing, manufacturing and sales. Sales will be handled by Angi Hart, who until recently served as director of sales and merchandising at prominent swim brand L*Space.
When Praver started her independent brand in 2009, the brand created a reputation as swim's go-to collection for smocked swimwear. The upcoming Praver line will feature smocked silhouettes and some high-waists. Also look out for triangle tops and bandeaux, Rapp said. The suits will be clean-finished with little seam work. The new line also will feature new fabrications such as rib knit and embroidery work.
The brand increased deliveries, forecast to be 10 months a year. Also coming up, kids' swim with matching prints to the women's swim, and ready-to-wear such as beach pants and cover-ups.
"The collection introduces an elevated sense of fashion yet also is very functional. We have put an extreme focus on fit and quality so that our girl looks and feels sexy. Whatever the end use is, she is covered," Rapp said.