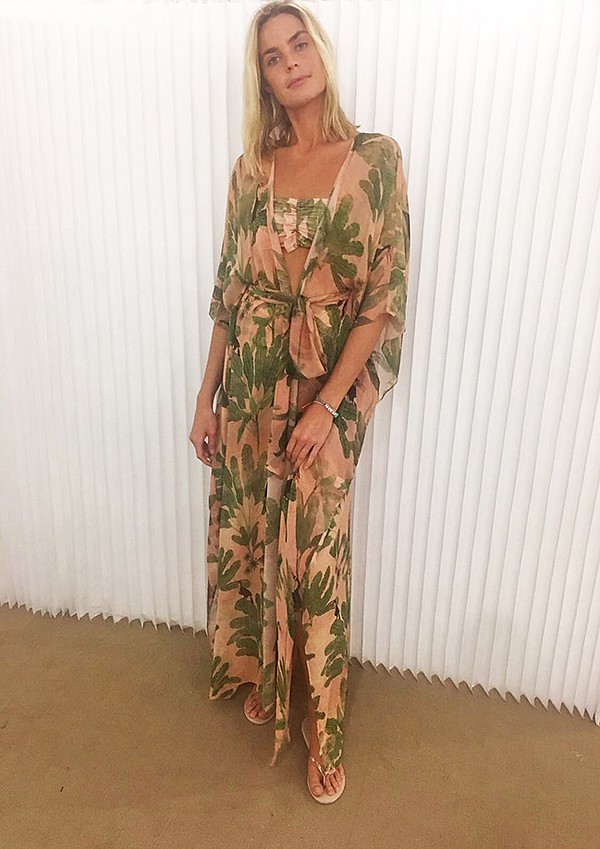 MIAMI SWIM WEEK
Swim Week Brings Trade Show Trifecta to Miami Beach: Cruise 2018 debuts at SwimShow, Cabana and Hammock
MIAMI BEACH, FLA.—One week a year in Miami Beach you can find more bikinis at the convention center than on the actual beaches. That was the case July 20–24, when Swim Week returned to South Florida. And this year—amid rainstorms, sweltering humidity and blazing sun (sometimes all within the same hour)—buyers, models, bloggers, socialites, editors and celebrities got an eyeful of what will be all the rage come Cruise 2018.
SwimShow Celebrates 35 Years
Model turned blogger turned designer Jasmine Tosh Stewart of Tosh Swimwear debuted her collection at Miami SwimShow, the week's original trade show, at the still-under-construction Miami Beach Convention Center. While it was Stewart's first year at the show, it was SwimShow's 35th. SwimShow is credited as being the innovator for what has today become a whole week dedicated to swimwear. The runway shows, satellite parties and other trade shows are the result of SwimShow's strides in the market. For a newbie in the design world, an opportunity like SwimShow is a designer's best bet to get her goods in front of an ideal audience. Stewart's line, which hit on June 1, comprises 50 colorful, teeny bikinis and '90s-style one-pieces with a modern-day twist ranging in retail price from $165 to $200. Stewart, who has spent plenty of time modeling swimwear for other brands, uses her celebrity to promote her own line as well. In the city in which the line was conceived, showing during the Lycra- filled week was a must.
"We just launched and we are based in Miami, so, naturally, we wanted to be in SwimShow," the Instagram darling with 503K followers explained.
Stewart says she couldn't be more pleased with the turnout at SwimShow, too. "I am honored to be in a collection beside Maaji, Luli Fama and L*Space because these are all brands I've collaborated with on my blog. It's really so surreal to be next to them," she said. Her booth, outfitted in flamingos, was hard to miss and caught the eye of buyers. "People flock to our booth, so lucky for us, it attracts a lot of buyers," she said.
Stewart wasn't the only one with buyers flocking to her booth, according to Judy Stein, executive director of SwimShow.
"We are very pleased with our turnout this year," she said. "The floor traffic is strong and the energy is great."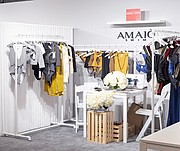 Stein said the anticipated return of The Collection may have a lot to do with the pleasing outcome. The highly curated environment, designed as a trade show within a trade show, featured high-end brands and direction as well as indie designers. "Due to overwhelming demand, we have increased both the number of participants and the allocated space for this year's Collection area," she said. "Buyers have an opportunity to engage with brands in a one-on-one, intimate environment that allows them to garner personal insight into the collections."
For designers like Stewart, that face time is critical. "I love interacting with buyers from around the world. It's also fun to be recognized at SwimShow since most people know me from my blog, 'Jasmine Tosh Lately,'" she said.
Stewart wasn't the only one to create a colorful, welcoming display to entice buyers. SwimShow did much of the same, treating buyers to posh, VIP amenities, including a champagne butler service, a decadent lounge area and endless Wi-Fi. The cool AC in Miami Beach's tropical climate was also a welcome reprieve.
The runway shows associated with Swim Week are another aspect that draws in buyers and designers alike. Seeing those suits on the runway, gauging the audience's reaction to them—those elements also play a big role in what will wind up on the racks. Brands such as Gottex, which has been showing on the Swim Week runways since the event's inception, brought their collections to life on the catwalk at the W South Beach. The line's classic one-pieces paraded down the runway at the hotel, showing trends such as cutout details, bold patterns and flowing pareos. Designers like Stewart hope to follow in Gottex's lead and show on the runway next year.
"We need a whole week to be dedicated to swimwear because swimwear is fashion—fashion that's poolside or beachside," she said.
Hammock adds spa and wellness to the mix
SwimShow, however, is just one of three trade shows that make up this swimwear trifecta. There's also Cabana and Hammock. The latter was found at W South Beach and is now in its eighth year. This year, Hammock brought in new brands, including Cynthia Rowley, Ranja Khan, Amuse Society and Duskii. It also brought back veteran brands like Tavik. All of that melded together to give Hammock its largest turnout to date. "This year, the show saw an increase in international buyers as well as small speciality stores and high-end hotel boutiques," said Rick Fatzinger, the show's cofounder. Returning buyers from Amazon.com, Neiman Marcus, Net-a-Porter and Shopbop were also found scooping up swimwear trends, which included a return to the '90s-style one-piece suits.
To keep things fresh, this year Hammock incorporated health, wellness and spa programs, such as a booty boot-camp class, a trio that easily goes hand-in-hand with swimwear. Additions like these help garner press and the attention of buyers. "It was an exciting Swim Week and one of the best to date," Fatzinger said.
Rebecca Kramer, the designer of Mia Marcelle, said the brand's experience at Hammock was good.
"It was a nice mix of press and buyers flowing in and out over the three days," she said. "Hammock staff was well organized and accommodating. Also, nothing beats being able to show your line in a beautiful ocean-view suite."
Last year, Mia Marcelle showed in the ballroom at Hammock, Kramer said. Moving to a suite allowed the company to decorate the room and add personal touches that reflected the Moroccan-inspired story of Mia Marcelle's 2018 "Souk to Sea" collection, Kramer said.
Kramer said she met with major retailers, such as Anthropologie, as well as the brand's boutique retail accounts.
"We also met a lot of international accounts, which was great for Mia Marcelle since that is a market we have not yet ventured out to," she said.
For many buyers, visiting the Mia Marcelle booth at Hammock was a chance to preview the line before the brand's runway show at Swim Miami on July 23.
New brands at Cabana
Over at the tents at Collins Park, between 21st and 24th streets at Cabana, now in its fifth year, the sentiments were the same. The show's brand manager, Hillary Joseph, said there were about 40 new brands to come on this year, including All Things Mochi, Nannacay, Caroline Constas, Diego Binetti and Innika Choo. "We have a handful of brands that have never shown with us that we're really excited about," she said. "They have been receiving amazing reviews from retailers."
Much like Hammock, Cabana launched new elements as well. The Cabana Cubs program allowed the show to work with new designers trying to get their footprint in the market.
"Po Swim is our first cub," Joseph said. "She's a 15-year-old designer from Miami who is breaking into the scene working with accounts like Arie, Planet Blue and more. We've been getting her introduced to all caliber of buyers and editors to help give her feedback and advice at the show."
It's this kind of commitment to participants that keeps Cabana's customer base consistent. As Joseph pointed out, "Nearly all of the brands we launched Cabana with five years ago are still with us today: Tori Praver, Mara Hoffman, Lisa Marie Fernandez, just to name a few." In total, nearly 240 brands were part of Cabana. As for the turnout of buyers, Joseph said, "Our traffic has been slightly higher than in past years and consistent throughout the three days."
But what most excited Joseph this season is the large increase in attendance from higher-caliber stores, including the likes of MyTheresa, Harvey Nichols and Browns. Joseph attributes that turnout to the brands.
"We spend a lot of time reviewing all of the brands in the market and finding new designers from around the world to launch within our show," she said. "The show's assortment and layout is thought about in all capacities. Buyers have come to truly trust us to find the right brands and bring them all under one roof."
One of these designers with those exact goals was Adriana Degreas, a high-end line that hails from Brazil. Adriana Degreas recently opened a boutique at the Merrick Park shopping center in Miami, thanks to trade shows like Cabana, which help the designer gauge the response to its product.
"Every year we meet new people and open new doors. As the brand has been evolving over the past few years and raising its profile in the U.S., the demand has been increasing substantially. We are very happy with the results so far," Degreas said. "Every year Cabana amazes me with its selection of brands, structure and professionalism. This year was no different. I'm happy we have a great booth here and, as I said before, with the results so far."