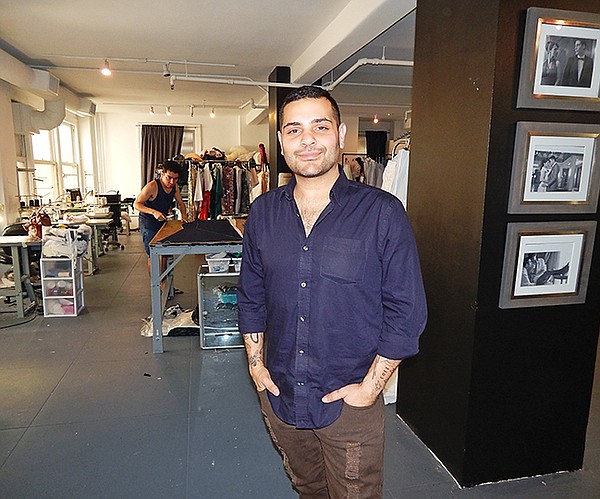 MICHAEL COSTELLO
LA Designer Michael Costello Expanding into Retail from His Downtown Post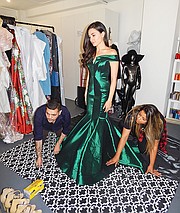 The numbers tattooed on Michael Costello's arm—12614—say it all. On Jan. 26, 2014, Beyoncé wore the designer's white lacy and semitransparent gown to the Grammy Awards, and in just one night she pushed the former "Project Runway" contestant to the top of the celebrity-designer map.
Beyoncé is still a Costello client as are Lady Gaga, Katy Perry and Jennifer Lopez. An assistant for Nikki Minaj recently stopped by Costello's downtown Los Angeles design studio to pick up a white chiffon jumpsuit made just for her.
With celebrity clients now making up about 50 percent of Costello's business and bridal customers making up as much as 40 percent during the wedding season, the "Project Runway" alum has decided to reach out to even more consumers by opening a chic boutique at Ninth and Main streets. Located just around the corner from his design studio, which is stashed away on the second floor of an historic building, the boutique should open in late July or early August when renovations are complete, he said.
"When I saw the space become available, I saw so much potential for what we are doing," the 34-year-old designer said. "I want everything in the store to be white—from the curtains to the cabinets to the walls. I want it to look like a loft with droplights and have a back room in the store that is more romantic and special for bridalwear with a lavish mirror and a chandelier."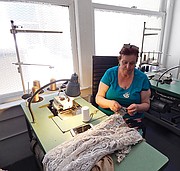 Costello's bridal gowns sell for $6,000 to $7,500, chiffon gowns go for $2,500 to $3,500 and evening gowns are priced at $3,500 to $7,000. At his new store, there will be some dresses available for under $500.
Already, the vacant store, once occupied by a hair salon, has white mannequins wearing vivid red evening gowns lined up in the front windows. Costello feels the location blends in nicely with other nearby upscale boutiques such as Acne Studios, A.P.C., Aesop skin care and BNKR. "I've always loved downtown Los Angeles ever since I was a kid," Costello said. "My father would bring me down to buy my fabrics, zippers and thread."
Just as his new downtown store opens up, Costello's now 7-month-old pop-up store on Cahuenga Boulevard in Hollywood will be closing. It's a place where Beyoncé recently dropped by with her family in tow to find a dress to attend the Wearable Arts Gala, organized by Beyoncé's mother, Tina Knowles, at the California African American Museum in Los Angeles. Beyoncé, pregnant with twins at the time, chose a ruched, red knitwear evening gown that went well with the expansive flower headpiece she wore to the April 26 shindig.
Desert design
Costello first became a household name when he participated in season 8 of TV's "Project Runway" in 2010, coming in fourth. He then returned in 2012 for "Project Runway: All Stars," placing third. Soon, he is scheduled to be a judge on an upcoming "Project Runway," he said.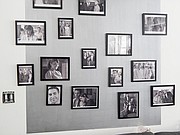 For him, the experience was great. "People were able to see my face and my work," he noted. "It gave me the fuel to not give up and never look back."
Susan Stein, the creative director of Fashion Week El Paseo in Palm Springs, Calif., where Costello has shown his work for the last five or six years, said the designer, who grew up in Palm Springs, is a real perfectionist and will work late in the night to get a job done. "I have always known him to rise to the task," Stein said. "He is incredibly appreciative of everything he has and is one of the hardest-working people I know."
Costello first became a retailer in Palm Springs, where he opened a store at the age of 15. By that time, the self-taught designer had reams of fashion sketches and was concentrated on being a designer. He said he even spent time working as a designer at Claire's Collection, a Los Angeles label that makes special-occasion dresses. That talent was not lost on his family. When his father, George, noticed a "For Rent" sign at 286 N. Palm Canyon Drive, he told Costello he thought he should open up a dress shop.
"Toni Braxton was my first celebrity client, and I worked with her for 15 years. Mary Bono introduced me to Suzanne Somers. I had the place for six or seven years," recalls Costello, who left school to run the shop, later getting his high-school equivalency degree.
These days, he feels right at home in his downtown LA studio, which has white walls, gray floors, a gray ceiling and tall windows framed with dark-gray curtains. There is a cutting table, several sewing machines and a fitting area.
On one end of the studio is an inspiration wall where Costello has posted black-and-white photos taken from the Spanish TV show "Velvet," set in the late 1950s and 1960s.
The program is about Alberto, who has been left to run his late father's fashion store, Galerías Velvet, in Madrid. "The whole show reminds you of romance," Costello said. "The seamstresses at the store wear lab coats, and the boss tells the sewing-machine operators, "The only thing I want to hear is the sound of sewing machines. No talking."
Costello is not that strict with the handful of workers at his studio, who are sewing, cutting fabric and embellishing garments by hand. While his success in Los Angeles is moving him forward, the fashion designer still stays close to his Palm Spring roots. In March, he received the 414th star on the Palm Springs Walk of Stars on Palm Canyon Drive. He dedicated the star to his parents, "who saw something in me at a very young age."