TECHNOLOGY
The Hundreds.com's Tech Revamp With Shopify Plus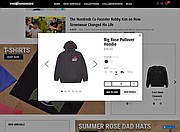 Bobby Kim built a community with blogs featuring a running commentary on the state of streetwear, hip-hop, rock, politics, travel, food and whatever else grabbed his attention.
Starting with the 2003 launch of the project, which featured an online magazine and a clothing brand called The Hundreds, a growing number of people visited http://thehundreds.com to read blogs posted by Kim and his friends. People would stick around the site long enough to buy a T-shirt or a hoodie.
The community and the commerce helped build the Los Angeles–based company into a leading streetwear brand that runs boutiques in Los Angeles' Fairfax District and in San Francisco. The brand also had a wholesale division that had sold apparel to specialty chains such as Zumiez andPacific Sunwear and leading boutiques such as Wish ATL, Sneaker Politics, Ps and Qs, Colette, Wolf's Head and Social Status. Then social media turned the Internet upside down, Kim said.
"People are not visiting home pages," he said. "They go to links through their social-media pages, then they leave the site. People are coming to blogs less and less," he said.
This website, focused on youth, was in danger of being bypassed by rapidly changing media and technology trends. Kim and The Hundreds cofounder Ben Shenassafar knew they needed to change their e-commerce, but they didn't want to give up their online magazine, which they regarded as a key ingredient to the brand's success.
They reviewed several pitches to revamp The Hundreds website. The Hundreds chose Lucid Fusion, an Irvine, Calif.–based partner of Shopify, the Ottawa, Canada–headquartered, cloud-based, multi-channel commerce platform.
Lucid Fusion planned to find a way to link The Hundreds' online magazine and boost e-commerce, said Zubin Mowlavi, the tech agency's chief executive officer.
"We wanted to create seamless integration between content and commerce that wasn't forced. It's not about forcing content onto commerce," Mowlavi said. "If there is a genuine opportunity we'll take it. It doesn't make sense for every blog to be shoppable."
The site is specifically working with Shopify Plus, Shopify's e-commerce platform for large companies with high-volume traffic. The site averages 500,000 clicks per month.
But since The Hundreds' editors still work in the WordPress program, Lucid put together a WordPress-to-Shopify app that allows brands to create content in WordPress and have it appear on their Shopify Plus site.
With the tech remodel, The Hundreds can integrate shopping into any of its blog posts.
The new Hundreds home page soft launched in April and officially went live in May. Before the revamp, the website's home page was 100 percent editorial. The brand's fans had to click on links embedded in the site to get to an e-commerce page. Mowlavi said that his company's programs allow the website a lot of flexibility.
One week it can be 75 percent commerce with 25 percent content and the week after it can be 75 percent content with 25 percent commerce, he said.
In a case study video posted by Lucid on YouTube, Ceilidh MacLeod, The Hundreds' digital marketing chief, said that the revamp would give the website stronger ties to social-media sites and bring visitors in. Brands can sell on Facebook, Pinterest, Houzz and Amazon.com. The site remodel also made thehundreds.com friendlier to m-commerce, or shopping from mobile phones, Kim said.
Cultural commentary will continue to be a touchstone for the company. It recently screened a documentary on the history of streetwear called "Built to Fail." It was shown at the 2017 LA Film Festival.