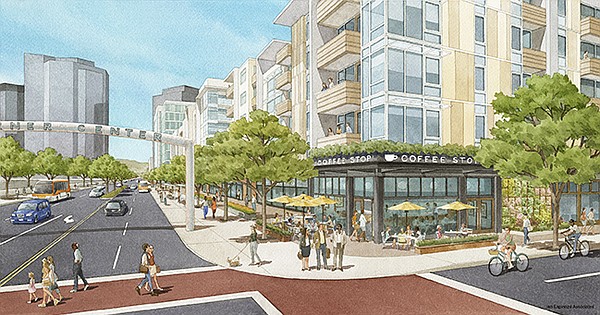 WESTFIELD'S TOPANGA PROJECT
What's Going On With Westfield Massive Topanga Project?
In September 2015, Westfield unveiled a $350 million The Village at Westfield Topanga project adjacent to its luxe Westfield Topanga mall, 26 miles northwest of downtown Los Angeles. While wrapping up this project, the international mall giant was in the midst of planning an even bigger project in the Topanga area.
The Project, called Promenade 2035, plans to construct a "downtown"-style live/shop/entertainment district in the 34 acres on the mostly empty The Promenade mall, located on the corner of Topanga Canyon Boulevard and Erwin Street.
Westfield has a lot of space to play with, and the company plans to put a lot of different features in the space. Proposed are 572 hotel rooms, 1,432 residential units, a 15,000-seat entertainment and sports center, and 244,000 square feet of retail and restaurants. Shops will feature neighborhood style retail such as groceries and pharmacies as well as boutiques.
The project also will feature seven acres of open space with 500 trees. The focus of the open space will be a Promenade Park, sort of a village green. It is proposed to be the center of the project. Open space details also will feature separate pocket parks and courtyards.
The project is currently under an environmental review, and no date has been set for the completion of the review, said Yeghig Keshishian, a spokesperson for Los Angeles' Department of City Planning. Proposed construction of the project is scheduled for several phases before the entire project is scheduled to wrap up 17 years from now in 2034, according to documents from the Planning Department. Westfield forecasts that the project will create 12,500 jobs during its multiyear construction.
Another mall slated to go through a massive remodel is the Laguna Hills Mall in South Orange County. It not only will go through a name change, but it will also transform its look from being a conventional indoor mall built in the 1970s to a live/shop/entertainment center named Five Lagunas. It is intended to draw visitors from surrounding districts Laguna Beach, Laguna Hills, Laguna Woods, Laguna Niguel and Laguna Canyon.
Scheduled to open in 2018, according to media reports, the space will offer 988 residential units, a cinema complex with more than 2,000 seats, 155,000 square feet of retail space and an estimated 40,100 square feet for fitness studios, according to documents from the city of Laguna Hills.
Merlone Geier Management LLC is developing the Five Lagunas. The space will also feature a one-acre park.