EVENTS
City of Hope Honors Oneworld Star International's Luo and Sneider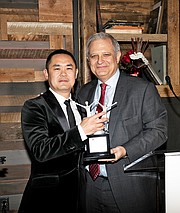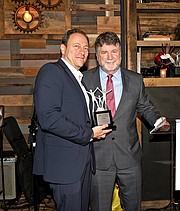 Members of the apparel and textile community gathered on Feb. 25 at Hyde Sunset Kitchen in Hollywood to honor the founders of Oneworld Star International Holdings Limited.
Yongbin "Rainbow" Luo, OSI's chief executive officer, and Richard Sneider, the company's chief strategy officer, received the Spirit of Life Award from the City of Hope's Fashion and Retail Industry Group.
OSI is a global apparel company, which designs and manufactures apparel for misses, juniors and children's. The company formed when Luo and Sneider acquired and integrated Oneworld Apparel LLC and Unger Fabrik LLC in 2010 and then APS Global LLC in 2014. The acquisitions combined APS' production capabilities in Latin America and Ungar's design and merchandising expertise with Star Group, an apparel manufacturer jointly based in Shanghai and Hong Kong, which produces apparel for retailers in the United States and Europe.
Shangying Global Co. Ltd. purchased OSI in October 2016.
Buchalter and Moss Adams served as legend sponsors for the City of Hope event.