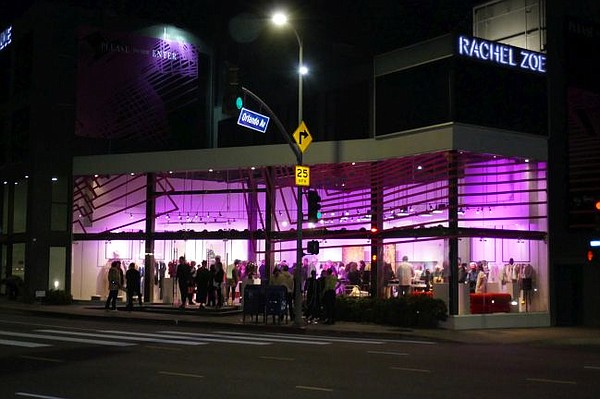 Please Do Not Enter's Westside Invasion
In Los Angeles, there is a Westside and an Eastside, and the two rarely meet.
But the founders of downtown Los Angeles boutique Please Do Not Enter sought to broker some understanding between chi chi Westside and the more gritty Eastside. Their intracity diplomacy? 'Hey b*itch, I'm from Downtown.' It's the name of their recently opened pop-up shop. A bit of sassy humor was intended with the shop's name, especially for its neighborhood. It's the area around Melrose Place in West Hollywood, which happens to be one of the most Westsidey of Westside shopping districts.
Please Do Not Enter's Nicholas Libert and Emmanuel Renoird hoped to export the humor of their very downtown boutique, as well as its fine art and unique Euro fashions in the pop-up. They produced a debut party on March 22 in 8382 Melrose Ave., on the former site of a Helmut Lang boutique, just downstairs from the headquarters of stylist, designer and entrepreneur Rachel Zoe.
Please Do Not Enter's art gallery sensibility was an important part of the pop-up. A sound installation was designed for the temporary store, Libert said. "It was most important to play with the DNA of the building, and connect with the story of the place," he said of the sound installation and the large signs bearing the words 'Please Do Not Enter,' on the 8382 building. "It is a L.A. project, with international designers," Libert said.
In the pop-up, designers such as Sko, a Bosnian living in San Francisco, made shirts and jackets specifically for the boutique. It also carries limited edition handbags from the French label Graf Paris as well as embroidered shoes from Céleste Mogador. Unique styles from Walter van Beirendonck are also represented. The pop up is scheduled to close May 3rd. Vive la différence!