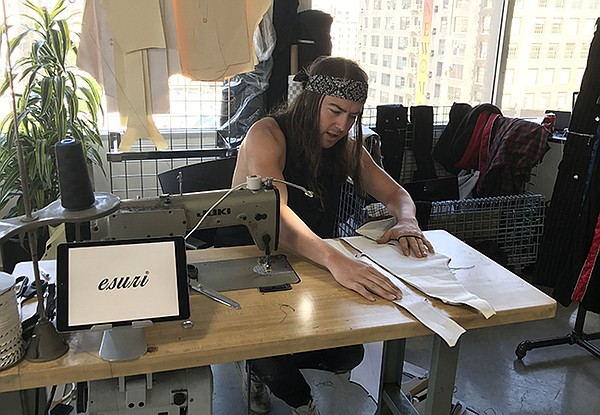 LAMM
LAMM Brings In The New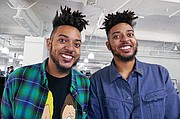 LA Men's Market has been producing trade shows since 2013, but the recent March 28–29 run of the show at the California Market Center looked to freshen up the show and bring in the new.
There was a new show director. Sannia Shahid has served as a partner in the independent trade show since its beginning. But she was officially named LAMM's show director shortly before the recent run. The show's longtime 6-foot-high sign with metal letters was moved from the show floor to the CMC lobby. At the entrance of the trade show at the CMC's 10th-floor events space was the metal sign's replacement. It was a translucent PVC-material strip curtain emblazoned with the LAMM logo.
The trade show debuted a new section—Gentlemen's Club, which is devoted to grooming products. Two barbers from Imperial Barber Grade Products, headquartered in Orange County, Calif., were giving attendees and exhibitors 1950s-inspired hairstyles at the show.
A good chunk of the show's vendors were emerging brands, which had just been in business under two years, Shahid said. The show featured 110 brands, up from 88 at LAMM's March 2016 show.
Buyers from American Rag CIE, Zumiez Inc., Shoe Palace, and Amazon.com divisions Zappos and East Dane shopped LAMM, but most of the attendees were leading and high-end, independent boutiques such as The Factory OKC from Oklahoma City; St. Alfred from Chicago; Deep Pocket Jean Co. from Hermosa Beach, Calif.; and West of Camden in Huntington Beach, Calif.
Reno Calabrese, West Coast sales manager for The Park Showroom, said LAMM would greatly strengthen the market for West Coast–based men's showrooms. "This event is driving activity to the men's market. Traditional men's markets have been soft in the past. But LAMM will force people to take the men's market seriously like they do in New York City." Calabrese was exhibiting brands such as Astrnemé, Duvin, Hero Seven and TCG Footwear at LAMM.
Vendors said that the show's aisles were not buzzing with traffic, but the show was good.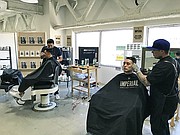 "Everyone was here for a legitimate reason," said Sid Phillips, a sales rep for Los Angeles–based brand Camar. For Anthony Lopez, cofounder and designer for brand Viven, with an office in Santa Ana, Calif., LAMM's networking opportunities were an important feature for the show. "For me, networking is important, with salespeople, marketers and buyers," he said.
The great majority of vendors exhibited men's fashions and products. Vendors such as Publish of Huntington Beach, Calif., also displayed its women's line. Christine Choi, the brand's sales rep, said business was good at a trade show for guys. "I had a busier men's show than the LA Fashion Market a few weeks ago," Choi said. The LA Fashion Market focuses on women's styles.
LAMM veterans such as Obey, The Hundreds, Stüssy and Herschel Supply Co. exhibited at the recent show. Prominent brands such as Levi's, Undefeated, Sundek, Alpha Industries and Carrots by Anwar Carrots also exhibited. The trade show also provided a forum for overseas brands. Australian brand 21.LA had its trade-show debut at LAMM. French brand Bricktown had its sophomore run at LAMM. Canadian underwear brand MyPakage also had a booth at the show.
LAMM shined a spotlight on new and emerging brands. Oro Los Angeles, headquartered in Huntington Beach, Calif., exhibited hoodies featuring details such as nylon flowers. Brownstone, a Los Angeles–based brand, showed its Italian mohair cardigans, parkas and trophy-style jackets bearing "The World Won't Listen," the title of an album by rock group The Smiths. Esuri, also of Los Angeles, exhibited pinstripe outerwear with a silk lining. Trash Los Angeles showed distressed T-shirts and hoodies, all made in Los Angeles. Label founder and designer Tal Mir said that 10 percent of his label's proceeds go toward foundations for the homeless. Team Cozy, another Los Angeles brand, is inspired by photography. It offers a top that features a camera-lens wipe in its hem.
Prominent styles seen on the show floor included jeans and chinos with a baggier fit, said Fez Duchamp, a producer for brand and content group Filz Agency. Other upcoming styles include fur-like, plush sweater fabric on sweaters and utilitarian style jackets with featuring a lot of pockets for mobile phones.