FINANCE
Creativity Abounds in California's Economy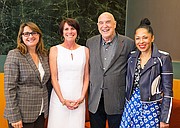 California is the most creative place in the United States.
The state employs more people in the creative industries—which include entertainment, fashion and printing and publishing—than any other state in America.
In 2015, some 747,600 people in California were directly employed in creative-industry jobs, a 13.5 percent increase from 2010, according to the "2017 Otis Report on the Creative Economy of California," released on May 18 by the Otis College of Art and Design.
The report was prepared by the Institute for Applied Economics at the Los Angeles County Economic Development Corp. and was unveiled in a one-hour presentation at the Pickford Center for Motion Picture Study in Hollywood.
Entertainment is the biggest employer of creative types such as actors, producers, directors, cameramen, writers and make-up artists as well as sound recorders, accounting for 171,500 workers in California as well as nearly 32,000 self-employed in 2015. Coming in second is publishing and printing with 154,200 employees and 15,500 self-employed and third is the fashion industry, employing 119,800 people and 14,800 self-employed.
"Creativity and the innovations that flow from creative activities are two of Los Angeles County's foremost economic assets," said Kimberly Ritter-Martinez, one of the LAEDC economists who prepared the report. "The talent that drives the creative economy provides a competitive edge that reaches across almost all industries. It builds brand awareness and attracts creative people to a dynamic environment."
Bruce Ferguson, president of Otis College of Art and Design, said the school has been commissioning this economic report since 2007. In the beginning, it focused only on Los Angeles County. But in 2013, with the help of the California Arts Council, the report was expanded to cover all of California, focusing on 12 creative sectors that range from architecture, interior design, furniture and decorative arts to toys, industrial design and art galleries.
Ferguson noted that close to 50 percent of these jobs require a bachelor's degree or some kind of skilled training.
Cheryl Boone Isaacs, the president of the Academy of Motion Picture Arts and Sciences and one of the presenters of the report, noted that the importance of creative jobs is felt across other industries outside of the creative community and beyond. There is a trickle-down effect to other sectors such as restaurants, hotels and rental cars. "This report reminds us that art and creativity and imagination not only touch America's heart but puts money in American wallets and creates jobs in American communities," she said.
"And remember, while Silicon Valley may be getting all the headlines, acting, designing, writing, producing and all the downstream industries that transform Los Angeles from a sleepy cow town to America's creative capital are still the engine of economic growth for the Golden State," Isaacs added.
While California has more people employed in creative areas than any other state, New York is slightly ahead when it comes to percentages. In California, 5.4 percent of the jobs are in creative industries while in New York it is 6.2 percent, or 478,100 jobs.
Other states that are high on creativity are Texas with 230,600 employed, Florida with 175,800 and Illinois with 171,000.
Creative industries are a major contributor to the state economy. In 2015, the jobs in this area generated $406.5 billion in economic output, up $32 billion, or 8.8 percent from 2014. Of that, $240.1 billion was value added by corporate profits and labor income. This net economic contribution was equal to nearly 11 percent of the state's gross product of $2.2 trillion in 2015.
Total direct labor income in California's creative industries totaled $84.4 billion in 2015, or nearly 10 percent of annual private-sector wage-and-salary payrolls.
Publishing and printing made up nearly 33 percent of direct labor income among the creative industries, which includes Internet publishing and broadcasting. That was followed by entertainment with 22 percent and digital media with 15 percent. The fashion industry contributed 6.4 percent of the total.
In addition to wage and salary employment, self-employed people are also driving the economic benefit of creativity. In 2014, the latest year for which data is available, there were more than 340,500 self-employed workers in California's creative community, earning $13.9 billion. Between 2009 and 2014, the number of self-employed increased at an average annual rate of 3.6 percent, outpacing the state's average annual increase of 2.6 percent in self-employment across all industries.
Between 2010 and 2015, the largest gains in employment were seen in publishing and printing, with 32,000 added jobs, up 27 percent. Digital media generated 16,800 new jobs, up 37.7 percent, and architecture and interior design saw a gain of 8,100 jobs, up 23 percent over five years.
Over the next few years, jobs in the creative industries should grow by 3.3 percent, or 24,300 jobs, between 2015 and 2020.
Each sector within the creative industries will expand, but jobs that will see the largest percentage gains are those that have a heavy industrial component such as digital media, which is strong in Silicon Valley, and communication arts.
However, there are some headwinds to expansion. For example, countries such as China and India have invested heavily in their domestic entertainment industries, increasing competition in those nations for films produced in the Los Angeles area.
The movie industry would love to keep production in California if it were affordable. But there are so many tax incentives provided by other states and countries to entice filmmakers away from California, that it makes it economically unfeasible to avoid runaway production.
Victoria Alonso, a producer and executive vice president at Marvel Studios, who was speaking at the Otis event, said she would love to keep production in Los Angeles because shooting outside of California splits up families for months at a time. But if tax incentives save you 42 percent of your production costs, it's hard to turn down.
Debra Martin Chase, a motion picture and TV producer speaking alongside Alonso, said she "hadn't worked in Los Angeles in forever." Her production schedule has taken her to Hungary, India, Australia and points beyond. "People around the world saw movies filmed in Los Angeles, and it became the city of their dreams," she said. "That is not happening anymore. They are seeing Georgia and New York City."
Other creative industries that could be hit with increased international competition are in the areas of fashion, toys and publishing. They will continue to see declines in employment due to increased automation, new technologies and pressures for cheaper labor found overseas.