RETAIL
Arts District Shops Hit Roadblock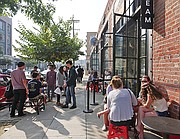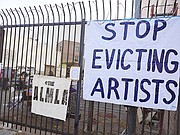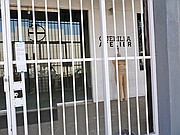 Construction is booming in downtown Los Angeles' Arts District, which is currently home to numerous sites for future offices and residences as well as crowds of people lining up for restaurants such as the critically lauded Manuela and popular beer and food hall Wurstkürche. Retailers have been scouting the once-blighted district, and high-end boutiques such as Dover Street Market are scheduled to move into the enclave in 2018, according to media reports. But the pace of construction has delivered setbacks to some of the area's pioneering retailers.
Renovations to the building housing Apolis: Common Gallery caused the 6-year-old boutique to shutter its location for a year, said Raan Parton, Apolis' creative director. Formerly housed at 806 E. Third St., it opened a pop-up at the Alchemy Works boutique, a couple of storefronts down at 826 E. Third St. After renovations are completed, Apolis will reopen in its former space.
Guerilla Atelier, located at 912 E. Third St., a half block north of Apolis, also went on a hiatus. The shop cultivated a reputation for selling high-end designers and luxe homewares. Guerilla founder Carl Louisville said that construction of the Aliso Apartments, adjacent to Guerilla Atelier, drove away retail traffic.
Problems started in March, Louisville said. Street closures caused by ongoing construction of the 400,000-square-foot compound regularly stopped retail traffic from going into the 6,000-square-foot emporium, where revenue from weekend business could often go over $20,000.
Louisville said that he made verbal and written requests to the site's developer, San Diego–headquartered Fairfield Residential, to improve its control of traffic. Louisville also made requests for the company to stop blocking traffic into his store with heavy equipment and to clean up trash from the construction site. Louisville said that his requests were ignored.
Louisville said that he is seeking legal counsel to remedy the situation. Fairfield did not return an email requesting comment by press time.
Poketo, an arts lifestyle boutique that has been in the district for five years, recently moved to a slightly bigger space a two-minute walk away in downtown's Little Tokyo district. Ted Vadakan, cofounder of Poketo, said that the place is changing. "It is one of those areas that is arriving," Vadakan said. "It is going through a second phase." Times are changing for long-term residents. On Nov. 4, an "Eviction Parade" is scheduled to end at the Arts District. It is being organized by a group of artists protesting evictions of artists living in the enclave.
The neighborhood remains a popular destination, and other businesses continue to do well in the area. Most of the retail foot traffic in the area remains solid, said Colin T. McCarthy, vice president and creative director of The Rogue Collective at 305 Hewitt St., which is a short walk away from East Third Street.
"The Arts District is going through some growing pains, but there is no reason to worry about the long term," McCarthy forecast.
The boutiques that shuttered or moved were located on the east side of East Third. But on the west side of the street, high-end boutiques continue to do business. These shops include a Shinola brand boutique and the H. Lorenzo Archive shop, which is a project from the H. Lorenzo boutiques in West Hollywood, Calif.
RELATED STORIES