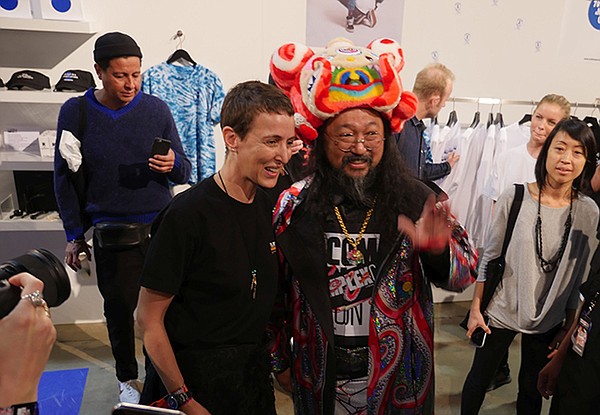 COMPLEXCON
Complexcon's 'Concert for Clothes' Makes Over $20 Million
Exclusive skateboard decks, rare screen-printed T-shirts crafted by design hero Virgil Abloh, appearances by VIPs such as former Lakers star Kobe Bryant. These were a few of the attractions at ComplexCon, described by some as a "concert for clothes," which ran Nov. 4–5 at the Long Beach Convention Center in Long Beach, Calif.
According to organizers, 50,000 people attended the event, which featured hip-hop music performances and panel discussions on fashion and culture. The high-marquee attraction was ComplexCon-only exclusives for major sneaker brands Nike and Adidas, both of which ran 8,000-square-foot booths on the show floor.
Also selling exclusive merchandise were popular athletic lifestyle brand Champion and emerging brands such as Atlanta's Trap House Clothing and Los Angeles–based Ms.Rpresented.
Attendance increased for the sophomore event; 35,000 attendees reportedly shopped the inaugural ComplexCon in November 2016. Passes were sold out for the 2017 run of the show. Ticket prices ranged from $75 to $100, with VIP passes costing up to $400. Aaron Levant, head of the event and a senior vice president of Reed Exhibitions, a producer at ComplexCon, estimated that exhibitors made between $20 million and $25 million during the two-day event.
For music, influential 1990s hitmakers N.E.R.D. performed at the show after a more than two-year hiatus. N.E.R.D's dancers wore Adidas outfits that were sold at the brand's ComplexCon booth. N.E.R.D is helmed by Pharrell Williams, who also started the streetwear label Billionaire Boys Club and leads premium-denim company G-Star. He served as ComplexCon's host committee chair. Other performers included hip-hop stars Gucci Mane, M.I.A. and DJ Khaled.
Also making an appearance was Grammy Award winner Kendrick Lamar. Steve Aoki screen-printed T-shirts for fans at the booth for his Dim Mak label. Art star Takashi Murakami, who was also on ComplexCon's host committee, signed bags and art pieces at his booth. Sarah Andelman, Colette Paris founder, was seen at the show. Commes des Garçons founder Rei Kawakubo was reported to have walked the event.
Music fans and resale retailers
Mixing musical performances, retail and fandom was considered unique by Jeremy Yuge, cofounder of the downtown Los Angeles boutique The Well.
"There's nothing like it. They're mixing a trade show with live music," Yuge said. "The clothing they are selling you can only buy at [ComplexCon.] That is why people were lining up at 2 a.m. on Friday."
Fans lining up to buy high-end sneakers is a common sight in streetwear culture. Levant said that he saw the first ComplexCon fans start lining up on Thursday, Nov. 2.
David Shin traveled from New York City specifically to go to ComplexCon and estimated that he spent $1,000 at the show.
"The only way to get this stuff was to come here myself or to pay resale," he said.
Resalers comprised a significant group of attendees at the show. These people purchase streetwear exclusives and resell them for double to five times the retail price.
Wil Eddins of the Las Vegas streetwear boutique Institution 18b said the resale market is growing in importance. The proof is in his neighborhood. He said that three streetwear resale shops opened this year on his street in Las Vegas' Arts District. He believes that resale retailers strengthen streetwear.
"It indicates value in the brands," Eddins said.
The price on exclusives can be marked up three times: first from the brand to the retailer, then from the retailer to the resaler and finally from the resaler to the consumer. Eddins also serves as director of business development for the Los Angeles–headquartered Wanderset (www.wanderset.com).
Curtis Diggins of Toronto also flew in specifically for the show. He estimated that he spent $700. "This whole thing is based on exclusives," he said of ComplexCon. The opportunity to get exclusives also made people accept waiting in long lines. Waits could be longer than an hour for the most popular booths.
For brands, the show was good for buyers as well as consumers. Josh Fishel, brand manager for Brooklyn Projects, said he talked to retail buyers at ComplexCon. Brooklyn Projects will be increasing its wholesaling efforts, he said.
"You go here for PR. If you are not here, you are not in the game," he said. "But there are buyers here, and there will be a lot of follow-up business."
Overseas brands such as Cune from Japan and Octopus from Milan produced booths at ComplexCon. It also was a place for debuts. K-Swiss introduced its "GaryVee" sneakers, which were designed with entrepreneur Gary Vaynerchuk.
Bobby Kim, a cofounder of The Hundreds brand, exhibited the label's collaboration collection with the horror film "It" at ComplexCon. He estimated that the brand made tens of thousands of dollars in sales. But the crowds seemed overwhelming.
"It feels like Black Friday all day long," he said. "Sales are great, but are we giving kids a positive experience?"
Levant said that his group will be addressing the long lines at future shows. Among the ideas on the table: building a reservation system, which would allow a fan to buy an item through his or her phone and then pick it up at the booth at a scheduled time. Another strategy to release exclusives would be through scheduled drops, similar to the Shopify Frenzy drops of exclusive items. Shopify ran a booth at the show.
There were reports of unruly people on the show floor, but Long Beach police made no arrests during the two-day event, said Arantxa Chavarria, an LBPD public information officer. Levant confirmed that there was some shoving and arguments in lines, but he said that there were no brawls. He said that fights will not be tolerated at ComplexCon.
Levant plans to schedule the next ComplexCon in Long Beach the first week of 2018. He said that there has been discussion about producing a ComplexCon in New York City, but there are no firm plans.