RETAIL
Robertson Plaza Opens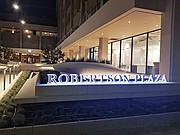 Once one of the top retail streets in Los Angeles, Robertson Boulevard is lined with both high-end boutiques and vacancies—around eight between Alden Drive and Beverly Boulevard.
But a new development on the street might change Robertson's fortunes.
Construction crews are finishing work on a more than two-year remodel of Robertson Plaza, located at 116–120 N. Robertson Blvd. The 169,937-square-foot compound once was the address of the Newsroom Café as well as a boutique for the Paige brand.
On Nov. 14, the plaza's first new tenant, the bar Bibo Ergo Sum, opened. On Nov. 19, a Blue Bottle Coffee location is scheduled to open. In 2018, restaurant chain The Henry is scheduled to open a location in the former Newsroom space. The Box Union boxing/fitness studio also is scheduled to open at Robertson Plaza in 2018, said Pamela S. Smith, senior portfolio manager for the Robertson Properties Group, the owner of the compound. Robertson Plaza is 80 percent leased. The Henry and Blue Bottle will offer sidewalk dining.
Robertson Plaza will pave the way for a comeback for the street, said Jay Luchs, vice chairman of Newmark Knight Frank. He served as a co-broker for Robertson Plaza and has worked on deals for the street for more than a decade.
"The street has a shot for a comeback. The way it comes back is food," Luchs said. Retailers will want to return to the street when they see affluent, stylish people dining at Robertson Plaza, he said. "Fashion brands will take notice again. It is an early comeback." Robertson also is well known as a destination for restaurants The Ivy and Cuvée, both of which offer outside seating.