RETAIL
Westside Pavilion Soon to Be Mall With No Anchors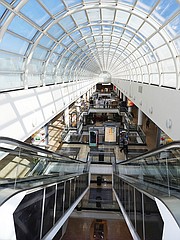 Nordstrom closed on Sept. 30, then on Nov. 9 Macy's stated that it was going to close its store at Los Angeles' Westside Pavilion.
With Macy's scheduling its 2018 closure, the 32-year-old mall will be left without a single traditional anchor store.
The Macerich-owned mall's tenants include well-known specialty retailers such as Banana Republic, Pacific Sunwear, Hot Topic, Cotton On, Express, Forever 21 and H&M. But running a regional mall without department stores is rare and perhaps without precedent. The Americana at Brand retail center in Glendale, Calif., opened in 2008 without any department stores in its tenant mix. However, a Nordstrom opened on the site in 2013.
Macerich has been reported to be considering a renovation for the mall but did not return a request for comment by press time. Karen Raquet, director of retail property management for JLL, a professional-services firm with a focus on real estate, said that Macerich would probably have to redevelop the site.
"It's great real estate and it's a great piece of land. What is the highest and best use for that land? It might not be a traditional anchor," Raquet said.
With department stores scaling back locations, there may be more regional malls left without traditional anchors, said Larry Jensen, JLL's executive vice president and senior director of national retail business development. However, there still are a lot of opportunities.
"You still have quite a few stores with quite a few good names attached," Jensen said of Westside Pavilion. "If they are performing well, it's not Macy's that is causing them to perform well. It's the market."
When it opened, Westside Pavilion was among the most celebrated shopping centers in the Los Angeles area. Influential architect Jon Jerde designed the three-story retail center. The first Aeropostale location was said to have opened there in 1987. The hit movie "Clueless," which chronicled the lives of stylish Beverly Hills teens, filmed some exteriors at Westside Pavilion before the film was released in 1995.
Since Westside Pavilion's Reagan- and Bill Clinton–era heyday, other major retail centers, such as The Grove, which is five miles away, grew to prominence. Westfield Century City, which officially unveiled a $2 billion remodel in October, is located about two miles from Westside Pavilion. Nordstrom opened a full-line store in Westfield Century City in October. Macy's opened a new department store at Westfield Century City earlier this year.
Westside Pavilion continues to offer a retail alternative, said Francisco Aguilar, an assistant manager at the mall's Hot Topic. "It's a more low-key mall," Aguilar said. "If you want to escape crowds, this is the place to be."
The Westside Pavilion Macy's is not the only Macy's slated to close in California. On Nov. 9, Macy's also announced that its locations in Stonestown Galleria in San Francisco and theLaguna Hills Mall in Laguna Hills will close in early 2018.
Earlier this year, Macy's sold the property of its Stonestown Galleria location to mall owners General Growth Properties for $41 million. GGP will use the space to house new retailers, restaurants and a movie theater, according to media reports.
Macy's sold its Westside Pavilion property for $50 million to GPI Properties at the beginning of the year. Raegan Gall, a Macy's spokesperson, said that the store has operated the store under a lease. The lease will conclude in March 2018, when the store will close. "The decision to close stores is always a difficult one, but Macy's is honored to have served this community for more than 50 years, and we look forward to continuing to do so at Macy's other great locations and online at macys.com," Gall said.