TRADE SHOWS
Majors Market Busy Despite Big Changes in Retail Industry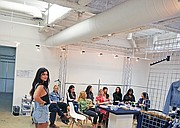 Department stores and big-box retailers are going through a time of incredible change, but salespeople working at the LA Majors Market, which is devoted to department stores and mass retailers, reported a busy pace during the Oct. 2–4 market at the California Market Center.
Los Angeles–based YMI opened a temporary showroom at the CMC to show the brand's embroidered and distressed denim for the Spring 2018 season.
"We had all of our accounts show up," said YMI President David Vered, who said buyers from Rue 21 and Dillard's were among the retailers visiting the showroom. "We had four full days of meetings."
However, there is no denying the market is rapidly changing, Vered said.
"Most retailers are trying to figure out how to face the changes," he said, referring to digital commerce becoming a more dominant force in consumers' lives. "There will continue to be a reduction in retailers' doors. It's no secret. The ones who find a way to stay relevant will survive. As producers, we have to find ways to stay ahead of the curve with what we do best—being a fashion company. Fashion will prevail."
Jeff Van Sinderen, a retail analyst for financial-services company B. Riley & Co., also forecast that the retailers served by the Majors Market must brace for more change.
"The department-store space is one of the oldest models in retail, and it is one of the most challenging," Van Sinderen said. "You've seen a number of store closures. There is still more consolidation that will happen. Department stores need to reinvent themselves."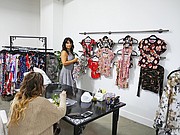 Some bold initiatives to experiment with retail have been announced in the past few weeks. On Sept. 19, Kohl's announced that 82 of its select stores in Los Angeles and Chicago would provide return services for internet giant Amazon.com.
Nordstrom Inc. recently announced the debut of Nordstrom Local. In Los Angeles, the Nordstrom Local site is on the exclusive Melrose Place shopping street and will serve as a place where consumers can work with personal stylists, take manicure appointments and make returns for Nordstrom.com and pick up items from the e-commerce emporium and full-line stores.
In August, Walmart announced that it would partner with the Silicon Valley company Google for a new delivery service. Walmart shoppers can order goods by voice command with the Google Assistant voice-activated platform. Walmart goods also can be dropped off at homes through the delivery service Google Express.
Steve Maiman, co-owner of Stony Apparel Corp., reported a busy few days of meetings at his CMC showroom. Like Vered, Maiman said that fashion would continue to be a centerpiece. "There appears to be a very optimistic outlook," he said. "I don't think it's the economy or [upcoming season of] Christmas. It's all about the product."
RELATED STORIES