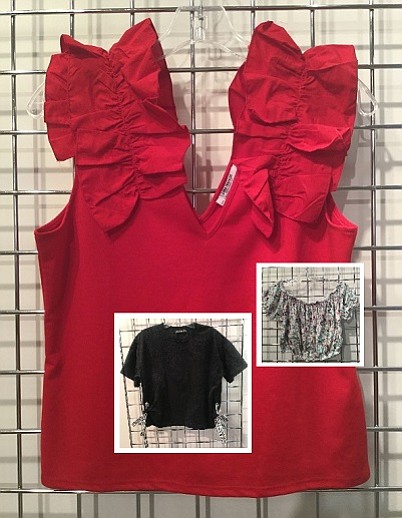 T-SHIRT TRENDS
Fields' Top Five T-shirt Trends for Spring/Summer '18
Spring '18 will be a time for bold-statement in details and trims.
That's the word from veteran trend forecaster Barbara Fields, who forecast that juniors T-shirts will be packed with details such as pearls and piercings. Juniors are also going to be seen wearing T-shirts with bows and laces at the sides of the shirts. Also, watch for ruffles. Don't expect to see a lot of graphics.
"Graphics are not the trend now," said Fields, owner of the Los Angeles–based Barbara Fields Buying Office. "The trend is the trim."
Fields released the forecast for Spring/Summer 2018 fashions in early October. Since then she has issued some updates for her general forecast.
"Embroidery is peaking. There is so much of it out there," she said. She also initially forecast that corset tops were going to be a big seller. But she scaled back her forecast on the category because the trend has not seen robust performance at retail yet.
However, her general forecast for T-shirts remains.
Top juniors looks for Spring/Summer 2018 will be pearl trims on T-shirts. Expect small pearl trims as well as larger pearls, primarily in black and white. Fields said that the faux pearls are typically heat-transferred onto the shirts.
Piercings will be another popular look. Fields forecast that silver-colored rings will be pierced in areas such as necklines, sleeves and hems of T-shirts for the Spring/Summer 2018 season.
T-shirts with ties and bows are also predicted to be popular. Ties and bows will typically appear at the sides of the garment. There will be a myriad of materials used for the ties, ranging from lace to velvet mesh.
Also coming up: T-shirt silhouettes bearing ruffles around the neckline. Once mostly a feature of woven tops, it will increasingly be seen in knits, Fields said.
Another silhouette that is making its way from the woven category to knits is the "peasant" top. Expect to see long-sleeve and short-sleeve blouses with a bohemian style.
Photos by Barbara Fields Buying Office.