RETAIL
Major Partner Exits The Bloc Shopping Center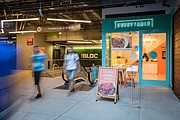 After five years of working to rehab The Bloc retail center in downtown Los Angeles, The Ratkovich Co. has sold its interest in the venture to its partner, National Real Estate Advisors, for an unspecified amount. Blue Vista Capital remains on board.
Ratkovich's exit closes a chapter in the $180-million remodel of a property that was considered to be at the center of revitalizing downtown Los Angeles. The remodel mostly wrapped up more than a year ago. Management for The Bloc said it has leased 84 percent of the retail space for the 1.8 million-square-foot development, which includes a Sheraton hotel, Macy's and an underground bridge to a Metro light-rail station. The Alamo Drafthouse Cinema is expected to open after construction wraps up this year.
Jeff Kanne, president and chief executive officer of National Real Estate Advisors, said The Bloc is on track to play a central role in downtown Los Angeles' revitalization. "We look forward to a big year for the project as we complete the lease-up over the coming months," he said in a prepared statement.
Wayne Ratkovich, president and chief executive officer of TRC, said the company's job at The Bloc had been completed. He is now focusing on other developments at the San Pedro Public Market in Los Angeles' San Pedro neighborhood and The Alhambra, a mixed-use development in Alhambra, Calif.
Philip Dane, a tenant at The Bloc, is optimistic about the center. "It's a smooth transition. Things are going to keep moving forward. Now I'm waiting for more stores to open," Dane said. He opened the Handcrafted LA store at The Bloc in September and has been in talks to extend his store's lease to 2020.
"When there's more to do, more people are going to show up. People enjoy The Bloc. But there's limited activities for them at this point," he said.
In 2013, TRC and National Real Estate Advisors announced they had acquired what was then called Macy's Plaza for $241 million. The developers embarked on ambitious plans to tear off the roof of the enclosed mall and update it into an open-air center. Tenants such as Macy's and LA Fitness also remodeled their sections in the mall. A large Starbucks opened at The Bloc last year around the same time it was announced that the luxury, dine-in cinema Alamo Drafthouse would open a 12-screen movie house there.
In the past few years, other retail centers and boutique districts have opened in downtown Los Angeles to varying degrees of success. A short walk from The Bloc, Figat7th took a bow in 2014 and has been busy. Its tenants include Victoria's Secret, Zara, H&M, Target and Nordstrom Rack.
Brigham Yen, a commercial real estate agent who follows downtown LosAngeles' retail scene for his blog, "DTLA Rising," has faith that The Bloc will eventually meet its potential. But there have been pitfalls in rolling out The Bloc.
"It is in such a great location. They have great spaces. But it doesn't make sense that Figat7th can succeed and that The Bloc cannot. It doesn't say anything about downtown. It says a lot about who owns the building," he said.