RETAIL
Kore Collective Develops Activewear Biz On Many Fronts
Last year, Kore Collective formally launched its business with a website that focused on emerging and established activewear brands for the fitness buff who wants everything cool in workout gear.
By the end of last year, the e-commerce site had branched out into a bricks-and-mortar location at 1832 Union St. in San Francisco's hip Cow Hollow district, taking a page from old retail playbooks to build its business.
Kelly Sterling, the founder of Kore Collective, said opening a physical space is a key part of her business, believing that stores will eventually make up 50 percent of her revenues as she expands.
As always, location, location, location is a key component in retail, and Sterling's 500-square-foot store is in a prime area where many fitness studios are located. Some of her neighbors are activewear retailers, including Lululemon Athletica.
"People coming into Kore Collective say, 'We've been shopping at big-brand stores. We prefer unique, small businesses,'" Sterling said. San Franciscans like their independent retailers so much that in 2006, the city's voters passed a ballot initiative to scale back chain retail.
Her venture also benefits from selling a clothing category that is still popular among shoppers. Market researchers The NPD Group out of Port Washington, N.Y., noted that athleisure is a bright spot in the fashion business.
"Non-activewear sales declined while activewear apparel continued on its growth trajectory in 2017, although not making as steep a rise as in past years," The NPD Group said in a Feb. 21 report. "Sales of both men's and women's activewear grew in 2017, but women's supplied much of the energy behind the category's growth, reaching $21.9 billion in sales with a 4 percent increase over 2016."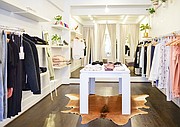 A store and e-commerce presence are only two parts of the Kore Collective operation. Sterling said everything counts in her business: digital commerce, social media, physical stores and personal appearances.
Sterling and her team frequently take Kore Collective's show on the road, producing trunk shows and going to wellness and fitness events across the San Francisco Bay Area.
"Our store is mobile," she said. "We launched with e-commerce. We have the store experience. A lot of our sales come from Instagram. We take our iPads and card readers everywhere. I'll be at a studio on a Saturday or a Sunday. I'll meet someone and they'll ask us to put something aside for them. We do a lot of face-time shopping with customers," Sterling said, noting she talks to shoppers on Facebook's Facetime app. "We try to take the boutique experience to people, whether they are in San Francisco or not. You've got to be scrappy. You have to use all of the resources at your disposal. You need to go and engage the customer where they are. You can't expect the customer to come to you."
The boutique on Union Street also works as an events space and community center for things including meditation and wellness events. It also will be hosting a running club led by Jenni Dubman, whose Instagram page, sherunssf, documents Dubman's running regimen. Dubman is a store client and Sterling sought to do a project with her.
Fitness teachers around the city also model different looks for the Kore Collective website at www.korecollective.com. "They become advocates of the brand," Sterling said.
Appearing on the site has its own cachet for the fitness teachers, Sterling said. "They build a social following. Content is more important than money sometimes," she said.
Sterling started her fashion career by producing digital advertising and social media for fashion and beauty brands in New York City. She also taught yoga fitness and published her personal activewear and fitness blog, called "Kore by Kelly."
When she moved to San Francisco three years ago, she saw a city that was obsessed with fitness but felt it was behind in activewear fashions. A lot of emerging activewear brands had not made it to Bay Area stores yet, she said.
So she started setting up boutiques at various studios. The venture snowballed into the multi-brand shop Kore Collective, where she is the sole owner.
Kore Collective carries established brands such as Koral, headquartered in Los Angeles, and stocks emerging brands such as ALALA. Later this year, it will carry Olympia Activewear and Live the Process.
Along with activewear, the retailer carries handbags and also focuses on "sweat-to-street" clothes, or athleisure garments, including puffer vests, tunics and dresses that can be worn outside the gym. In the next few months, the store will stock skincare products.