MANUFACTURING
Maui and Sons Announces American Eagle Collaboration Line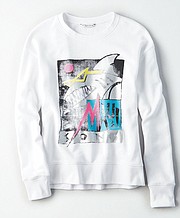 With the help of Maui and Sons, American Eagle Outfitters is going surf.
On June 1, the denim-focused American Eagle will debut a collaboration line, called American Eagle x Maui and Sons, with the heritage surf brand, said Blake Harrington, executive vice president of licensing and business development at Maui and Sons, headquartered in Los Angeles' Pacific Palisades neighborhood.
The collaboration line will be available exclusively at all American Eagle doors, which number more than 1,000 stores in North America, China and Hong Kong.
Looks will include hoodies, French terry sweatshirts and denim shirt jackets with Maui and Sons' logo embroidered on the back, Harrington said. Following Maui and Sons' roots in 1980s surf and skateboard styles, there will be T-shirts with bright colors.
Some of the T-shirts and other garments will have a worn, vintage look.There also will be a few looks for women, which include tank tops and crop tops. The collaboration's tops are intended to be merchandised with the retailer's denim. American Eagle, based in Pittsburgh, will manufacture most of the clothes.
Maui and Sons will manufacture swimwear and the collaboration line's accessories, including skateboard decks, Frisbees and caps. Maui and Sons snacks, including coconut chips, will be sold at various American Eagle flagships.
"It was tied together in a nice way," Harrington said. "It gives us more of a consumer base. It will attract more people to Maui and Sons and American Eagle," he said.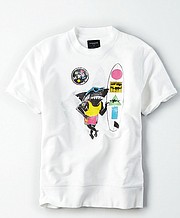 Maui and Sons has been selling surfwear since the Reagan administration. Its various logos—which include a muscular man with a shark's head and a round dark circle filled with the brand's name and colorful, geometric figures—have been common sights around surf areas for years.
The brand's clothes have been sold at Macy's, Pacific Sunwear, Zara and The Buckle as well as action sports–friendly retailers including Tilly's.
In 2017, Maui and Sons made a licensing deal with Irvine, Calif.–headquartered Z Supply's Icons of Culture division to make a women's line. Harrington said that Icons of Culture for the Spring/Summer 2018 season is currently available in stores, including Tilly's and Jack's Surfboards.
Licensing and collaborations make up 10 percent of Maui and Sons' business. "It's a great business driver and a great way to mix products," Harrington said. "It's very important to us."
The American Eagle collaboration started in September 2017 when Harrington met with American Eagle executives at the Licensing Expo in Las Vegas.
After the two companies agreed to collaborate, American Eagle sent five of their designers to scour Maui and Sons' archives in a warehouse in Rancho Cucamonga, Calif. They went through original artwork from the 1980s and selected a dozen graphics and prints to reproduce.
"They were very hands-on," Harrington said. "I flew over there. It took nine months to put it together. It was a big effort for everyone."