TRADE SHOWS
New Hire at SPESA as Texprocess Americas and Techtextil North America Plan Events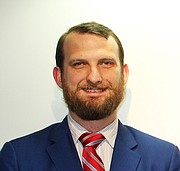 The Raleigh, N.C.–based Sewn Products Equipment & Suppliers of the Americas (SPESA) has hired Michael McDonald, the former manager of government relations for the American Apparel & Footwear Association, as its new executive director, a position he assumed March 15.
In this role, he will work with the trade association's president, Benton Gardner, and managing director, Dave Gardner, until they retire at the end of 2018, at which time McDonald will be heading up the organization.
In addition to his new role, McDonald has served as North Carolina State University's adviser for the textile apparel technology management student advisory board, an adjunct professor, teaching assistant and guest lecturer while pursuing a doctoral degree in textile-technology management.
During this transition, SPESA's trade-show production partner, Messe Frankfurt Inc., announced additional offerings for the fourth edition of its equipment expo,Texprocess Americas, and 15th annual Techtextil North Americas, which showcases technical textiles and nonwovens.
Held concurrently in Atlanta's Georgia World Congress Center, the events will run May 22–24 and feature more than 500 exhibitors from different regions of the world.
At various sessions, Techtextil North America will explore topics such as "Emerging and New Developments in Nonwovens," "New Fiber Technologies," "Smart Textiles" and "Technical Textiles: Enabling Future Mobility in Electric & Smart Cars."
At Texprocess Americas, attendees can attend sessions that cover "Automation, Smart Machines and Robotics in Sewn Products Manufacturing," "Wearable Tech and Textiles: Communication through Clothing?" and "Tariffs, Duties and Barriers—Oh, My!"
In collaboration with the Nonwovens Institute, Techtextil North America will again feature Tech Talks—which were popular at the 2017 show—as Texprocess Americas introduces its own version of these sessions in partnership with the Fashion Institute of Technology and performance streetwear brand Voice of Insiders.
At Techtextil North America, the "High-Tex from Germany" exhibition will showcase 66 of Germany's textile, textile-machinery and garment-technology companies.
As part of this year's Texprocess Americas 2018, Gerber Technology will unveil its replica costumes created from designs featured in the 20th Century Fox film "The Greatest Showman." Partnering with Global Garment Engineering, Gerber was able to fulfill a request by 20th Century Fox to efficiently create lower-cost replica costumes to support the film's 2017 release. During its presentation, Gerber will show how these replicas were created using technologies such as YuniquePLM, YuSnap, Silhouette Table, Accumark, Accumark 3D, Accunest, XLs125 Spreader and Paragon Cutter.
Micro-factory demonstrations will feature the Omron Autonomous Mobile Robot, an autonomous intelligence vehicle whose abilities promote efficiency through automation. In collaboration with Gerber Technology, Henderson Sewing Machine Co., Kornit Digital, Nextwave and Zund America Inc., their micro-factory demonstrations will showcase methods for more efficient product design, digital printing, automated vision-aided cutting, material transport and robotic sewing.