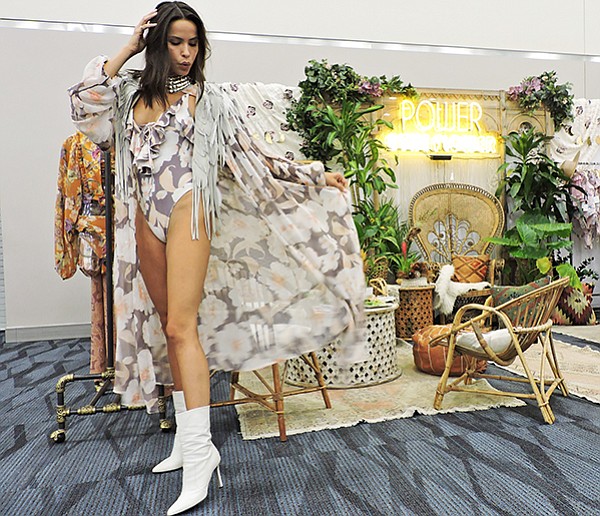 SWIM AND ACTIVE IN SOCAL
A Cohesive Space Spells Success for Swim and Active Shows
ANAHEIM, Calif.—During the first summer installment at their new location, organizers of Swim Collective and Active Collective reported a lot of positive feedback regarding the space at the Anaheim Convention Center, with early reports of increased attendee traffic.
"We've combined the shows together now that we have a larger location and more space to work with," said Emerald Expositions Vice President of Marketing Adrienne Belk. "The crossover is better, and we've been able to expand and bring in more brands."
The Aug. 1–2 event featured a live DJ in a lounge located in the center of the hall as well as a progressive lunch served throughout the day.
Stevi Vaughn, a buyer for the Whalebone Surf Shop, headquartered in North Carolina, said she traveled to Swim Collective to see some of her favorite brands, including SEEA, Carve Designs and Tavik.
"I've been coming to Swim Collective since 2013, and it's always just a really nice, easy, clean show," she said while looking for French-cut styles and simple silhouettes for December through July 2019.
At the Vitamin A booth, representatives from the Orange County, Calif.–based brand were busy taking orders as the company promoted its BioRib—a plant-based Italian fabric and a sculpt material that is more complementary to a woman's body.
"We have our new Sculpt fabric," explained West Coast Account Executive Odilia Therriault. "It has twice the Lycra, with a raw edge. It's like a firm hug but not really tight."
Noting that Swim Collective is important for West Coast surf specialty retailers who might not make the trip to shows in Miami or Orlando, Rick Kuhn, president of Raj Swim, was happy with how the show was organized.
"The show has created a nice atmosphere at a good venue for the retail community," Kuhn said. "They've done a good job of bringing together a strong presentation of brands, which is important to retailers to give them an overview."
At Luminous Sol Swimwear, a line that launched last year in Silicon Valley, owner and designer Meena Shams was selling swimwear that wholesales from $37 to $82 and includes some pieces made from eco-friendly Italian nylon manufactured with thread from recycled fishing nets.
"I'm learning so much. This is my first show," she said. "I felt this would be a great way to meet buyers all in one place instead of going to each individual store or business."
Across the aisle were pieces from Toronto's ISK-KA by Rachel Fox, whose pieces are wholesale priced from $100 to $122. This was the company's first show. Fox said she creates swimwear using sustainable Italian fabric from a mill that has a partnership with the World Wildlife Federation Italy, with her manufacturing based in Vernon, Calif.
"It's difficult to find swimsuit sewers in Canada. We don't have the expertise, so I sew here in Vernon, which is the capital of the world for swimsuits," she said. "It's important to me as a new company to make sure I am ethical."
Shopping for her two Portland, Ore., Popina shops, swimwear designer and store owner Pamela Levenson was pleased with the show. She was happy to see JETS Australia, Vitamin A, MAAJI, Pembrooke, Profile by Gottex, Tommy Bahama and Body Glove andrevealed that apparel from BloqUV was serving a growing segment of her clientele.
"People are more conscious now about being in the sun and wanting to protect their skin," she said. "We've seen that part of our business really boom."
New to this show was an area named Beach at Swim Collective, which was dedicated to swim accessories and beach-lifestyle products.
"Before, we would have sandals, towels and cover-ups scattered throughout the floor and it was hit or miss regarding how they would do. Now we've put them in a category," said Jane Preston, vice president of sales for Swim Collective.
Standing in front of his company's "Sole Shack" trailer, parked inside the convention center, Alex Nguyen, field marketing manager for Encinitas, Calif.–based sandal brand Vionic Beach, thought the show provided opportunities for the brand, which launched in late 2017.
"The show has been amazing," he said. "This is our third Swim Collective. There are a lot of serious buyers and we're here to do business."
Expanding the audience for activewear
At Active Collective, show organizers recognized the potential for growth as sports apparel becomes more fashionable in addition to remaining performance focused.
During its first showing at Active Collective, Bobbe was showcasing activewear pieces that wholesale for $30 to $50 and are inspired by tennis but manufactured for any sport. The Santa Clarita, Calif.–based brand's chief executive officer, Erica Anderson, wanted to use Italian fabric and United States manufacturing to create pieces that allow women to go from "court to cocktails."
"It's tennis, but we're moving into active, and all of our garments are chlorine resistant, so you could swim in them and have sunblock of UV 50+," she said. "[The show] has been okay. We've had some interest. It's our first time, and it's been hard because we didn't make appointments."
At the Beyond Yoga booth, representatives explained that showing at Active Collective was important to connect with major partners, such as Bandier, Equinox, YogaWorks and Carbon 38. There was a high demand for its extended sizing, which debuted in 2017.
"A big part of our ethos is celebrating all shapes and sizes of women at whatever stage of life," explained Sarah Ladd, who is the company's director of key accounts and territory representatives. "That has been super exciting, and I am seeing more attraction to that space."
Traveling from Toa Baja, Puerto Rico, Verónica Pérez González enjoyed shopping for activewear to fit her store, Wowoman. She thought Terez, NUX Active and Goldsheep would best suit her clientele, who engage in an array of activities from cycling to CrossFit yet also demand unique, colorful pieces.
"It's important to me to sell different products and different brands," she said. "[Here,] I can find everything in one place."
This installment of the show was her first time at the Anaheim event and, despite the travel from the New York area, she will return to the show next year.