MANUFACTURING
DSTLD: Big Dreams From Small Investors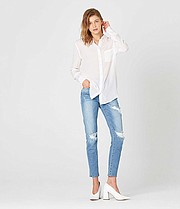 The forces behind the denim line DSTLD dream in black and white and believe that less is more until it comes to crowdfunding.
By last March, DSTLD had raised more than $2.9 million in a round of online crowdfunding that helped the Los Angeles brand hire Hil Davis as its new chief operating officer and launched its dream of opening a bricks-and-mortar flagship sometime in 2019.
The label's co-founder, Mark Lynn, believes his direct-to-consumer denim brand will eventually be a $1 billion company. One step to reaching that goal was raising funds from modest investors who paid as little as $1,000 for a piece of the action.
Lynn said equity crowdfunding was a way of raising capital while dodging risk because the company doesn't have to go public. "It should be called micro-cap investing," Lynn said. "The investors are more aligned with management. We both want to create a long-term business."
With Davis on board, the executive team will be benefiting from his years as founder and chief executive of the Dallas online custom menswear brand J Hilburn.
The DSTLD team is already investing in ways to revamp its production and supply chain and expand on retail.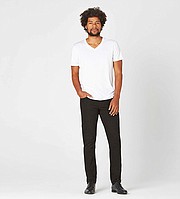 Currently, the company produces roving pop-up shops in the Los Angeles area. It recently closed a 1,000-square-foot pop-up on Melrose Avenue in West Hollywood that opened in January.
Another pop-up is scheduled to open in September at the Valley Country Mart in Los Angeles' Woodland Hills.
DSTLD started in 2014 as a clothing brand for creative types who work in the tech industry. Most of the collection comes in two colors: black and white.
"We wanted to simplify wardrobes," Lynn said. "We only sell things in black or white and various shades of gray. We took some inspiration from Steve Jobs [of Apple] and Mark Zuckerberg [of Facebook], who don't like to think about what they wear. We wanted a brand that could mix and match any component and still look socially acceptable in any of the world's creative cities."
Designing DSTLD's look is Paul Roughly, who from 2006 to 2015 served as the design director for the rock 'n' roll–inspired brand Kill City.
DSTLD makes clothes for women and men with denim silhouettes that range from skinny to skinny slim and a roomier straight. Core price points range from $75 to $95.
Over the years, DSTLD has branched out to offer an extensive collection of clothes, which range from basics including T-shirts and woven shirts to hoodies and bomber jackets. For women, there are sweaters and silk blouses.
Lynn said the brand can offer premium clothes at lower prices because it doesn't have the overhead other brands carry.