ACTIVEWEAR
Ruby Ribbon Expands Its Collection Bringing Greater Comfort to Its Clientele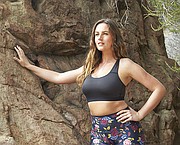 Launched in 2012, Burlingame, Calif.–based Ruby Ribbon has expanded over the years from manufacturing foundation pieces to last year introducing swimwear.
The brand is now branching out to activewear with a capsule collection that emphasizes comfortable support with a bra replacement called the "Sports Demiette."
"My first impulse was to create a product line that was all about fit," founder and Chief Executive Officer Anna Zornosa said when recalling her inspiration to launch her brand. "The original product line included a lot of intimate and foundation wear but also already had leggings that had some proprietary fit techniques and also shirts that had some fitting elements built in."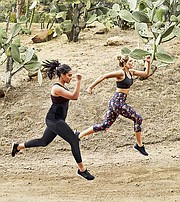 Ruby Ribbon's initial products were built shapewear, including camisoles, waist and full-body shapers, and demiettes manufactured to be a support bra without an underwire. The brand has implemented this same shaping approach to other product launches. Zornosa explained that the difference in her products, compared to other shapewear, is the use of variable compression rather than the traditional uniform compression.
"Variable compression uses tensions within the fabric so that the product is doing different things for different bodies, and it's also not doing things in a uniform way," Zornosa explained. "Variable compression is not only a great technique for foundation wear, it's also the technique that we use in our leggings and pants to give a great fit without the use of zippers and buttons."
Even in its sales approach, Ruby Ribbon is different. The company is based on a social-commerce model, using independent stylists who work as contractors.
"When it comes to products with fit, women need good service," Zornosa said. "They need to be educated a little bit. They need to try on things. At the time when I was researching the company, there were a lot of channels that were having trouble with things that had a fit element to it because the return rates can be so high if you aren't able to truly personally service the customer."
Approximately one in 13 of Ruby Ribbon customers becomes an independent sales representative for the brand. By using this social-commerce model, Zornosa said, repeat purchases for her brand are high while return rates remain low. She also believes providing excellent customer service is a large reason for her success.
"Going to market with an independent stylist as the channel assured me that we could give great customer service, and it's turned out that way. The customers are incredibly loyal," Zornosa said.
While customers return to Ruby Ribbon for its products and customer service, the brand's clients also play a role in the launch of new products. After the successful introduction of the Ruby Ribbon swimwear line, customers wanted to see the launch of an activewear collection based on the principles of comfortable compression.
For a foundation garment line that expanded into swimwear, launching an activewear collection seemed to be a natural step, but Zornosa wanted to carefully plan the pieces' designs. With more than 60 percent of her customers wearing a C-cup bra or larger, she wanted to create an alternative to the standard sports bra.
"We wanted to address our whole customer base, which is a bra-band size 32–50," Zornosa said. "We wanted to see if we could make a product that wasn't this brute-force compression product that results in most sports bras giving a woman a uniboob. We wanted to preserve a bit more of her natural shape."
Using antimicrobial spandex-blend fabrics made in the United States, Zornosa manufactures her active collection in Nicaragua, China and Vietnam.
The active capsule collection includes two workout leggings and two workout tank tops available in XS–XXXL and priced $69–$79. It also introduced the "Sports Demiette," a sports-bra design that fits all cup sizes and is priced at $79.
"Demiette is a proprietary word for us because we see it as a replacement for a bra rather than just another bra," Zornosa said.
The initial July 25 introduction of the Ruby Ribbon activewear capsule collection occurred during an unusual season that is not typically the time of year known for introducing this type of product.
"Most activewear companies would choose to launch at the beginning of the year," she said. "We will probably build on the line in the January/February time frame. We brought it out to coincide with our national convention. It was a great place for us to introduce something that we believe is going to be pretty important in the line."