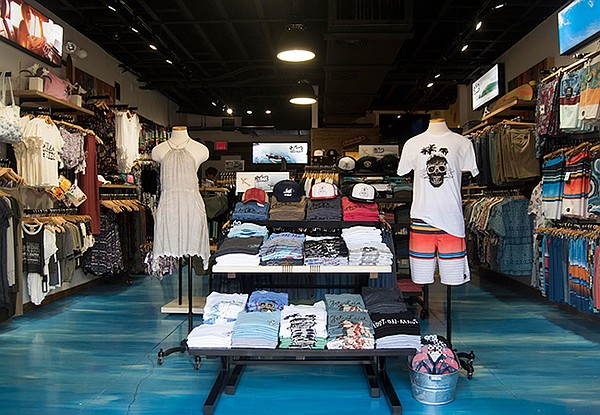 SURFWEAR ENJOYS REBOUND
Good Times Might Be Coming Back for Surfwear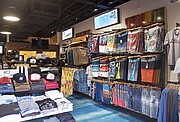 The surf industry might be catching a big wave for the rest of 2018, said market-research company ActionWatch.
The group recently released numbers measuring the business at core surf and skate shops, which might be on track to show their best performance since 2014. That was the year that shops showed year-over-year growth of 1 percent, said Patrik Schmidle, ActionWatch's president.
"If I had to describe the numbers for the ActionWatch panel [of retailers] in one word, I would use the word 'hope,'" Schmidle said.
Business for surf and skate retailers was steady at the beginning of the year. Then it stumbled in April because extreme weather across the Eastern seaboard seemed to have kept shoppers away. By June, business regained a bit of momentum, showing flat growth compared to June 2017, Schmidle said.
Bright spots for surf and skate shops included increasing interest in lifestyle apparel and footwear products. Women's apparel, footwear and wet suits enjoyed good sales with wet suits showing single-digit growth so far in 2018, the market-research company said.
ActionWatch's findings are good news for the surf business, which over the past decade has been pummeled by high-profile bankruptcies, changing tastes in youth fashion and a new retail landscape.
The tough times paved the way for a comeback, said Joel Cooper, chief executive officer of Lost International, the parent company of the popular surf brand …Lost.
"The great thing about the surf industry is that it never goes away. It's cyclical," Cooper said. "We've gone through bad times. It is slowly improving."
Some reasons for a rebound is the fashion cycle is turning back toward surf and more women are interested in the category than before, Cooper said. Bankruptcies of major surfwear companies, including Quiksilver and Billabong, have forced the bigger companies to streamline operations and work more efficiently.
After Quiksilver emerged from bankruptcy, it renamed the company Boardriders Inc. and acquired the troubled Billabong surfwear brand.
With bigger companies working to save their businesses, there was more room for entrepreneurs to introduce new brands, which paved the way for more variety at surf shops, Cooper said.
"The business is coming back at a core level. Maybe we've turned a corner," he said.
Lost might be benefiting from better tides for the surfwear industry. It recently opened its second boutique in Hawaii, giving the company seven full-price boutiques.