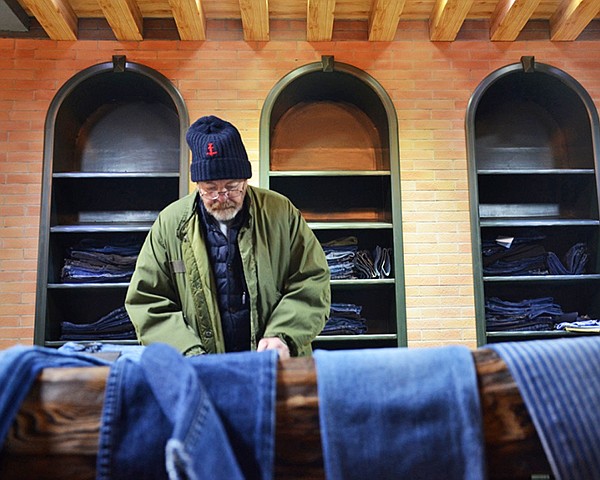 HOUSE OF GOLD
'The Godfather' Builds a House of Gold to Make Sustainable Denim Affordable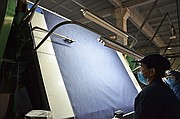 Adriano Goldschmied—known for his luxury denim at brands such as Diesel, Citizens of Humanity and AG Jeans—has been quietly building a new Los Angeles venture over the last five years.
Named House of Gold, it is an organization that serves denim brands and guides them through the fabric-sourcing process.
"We've been keeping a very low profile. We didn't want to talk about it before we could talk about it seriously," said Goldschmied, who is known by many as "the Godfather of Denim." "We are not just a sales organization; we supply a complete concept from the design of textiles to marketing and sales."
Goldschmied's denim-manufacturing ventures always seem to be ahead of the curve, and this venture is no different. He is now focused on helping brands bring premium-quality denim to consumers who are searching for sustainable goods that are affordable.
Based in the Los Angeles Arts District, Goldschmied assembled a team of fashion-design and -development professionals, which includes his daughter Glenda Goldschmied as the marketing creative director and Director of Operations Vincenzo Marrocco, who is the son of former Candiani Denim USA president Saverio Marrocco. The organization also has a location in Amsterdam's Denim City and a New York City presence managed by denim-industry veteran Susan Lawrence.
"Not one of us is coming from sales. The team comes from product design and development. It is not only about selling fabric but also about developing the best product possible," Goldschmied said. "We are able to have a great partnership with our customers because we get their confidence and we can work together to develop the products better."
House of Gold works with clients from around the world to design denim textiles created by mills in China, such as Blue Diamond Denim, which is building a new 376,737-square-foot factory scheduled to open in 2019. Originally founded as a cotton mill in China's Hebei province in 1958, Blue Diamond specializes in the premium-denim fabrics and other woven textiles Goldschmied sees as the future of responsible—yet economical—denim manufacturing.
"Instead of having a low-quality product, we want to have a product that can compete at the level of premium denim," Goldschmied explained. "The concept is to bring the expertise of premium denim but at a reasonable price."
Through House of Gold, Goldschmied is providing a solution to one of the most widespread problems facing sustainable-apparel manufacturing—high costs. Clothing brands that would like to produce sustainable goods are often confronted with expensive textile-production prices, but passing on these costs to their customers is not effective if the consumer refuses to pay and opts for a lower-quality, lower-priced product made using traditional, pollutive practices.
"For sustainability to truly take over on a global level, sustainable goods must cost less than the normal versions. That is what it's moving toward," Marrocco said. "When you create a sustainable product, it is more than likely that you cut out some steps and don't have to spend as much on these pollutive elements, which is the reason it can cost less."
The House of Gold team is also partnering with Changzhou Congling Knitting Co., Ltd., a 358,797-square-foot factory located in Jiangsu, China, through a collaboration referred to as "In the Loop," which is focused on indigo knits. This collaboration offers non-denim French terry, twill, rib-knit, jersey, jacquard, piqué and interlock fabrics.
"We develop the indigo yarn in the traditional way, which is rope dye, and we create cones and bring the cones to a circular-knitting machine," Goldschmied explained. "We created a new generation of fabrics that are perfect for the trend today, which is about extremely comfortable fabric."
While House of Gold's focus is to cultivate relationships to help designers and brands develop affordable, sustainable denim, Goldschmied still finds the allure of making his own jeans. Under House of Gold, he launched Jeanious Laundry—an 80,729-square-foot facility in the Nansha district of Guangdong province. Using eco chemicals with laser and ozone practices, the garments are processed using indigo dye with PFD (prepared for dyeing) fabrics, which don't have whitener added.
"Last year, I created a laundry called Jeanious Laundry in South China," Goldschmied said. "We developed washes in an independent way, so we can work the fabric that the mill produced, but I can produce any other fabric that is requested by my customer."
While Goldschmied has been a trusted expert in the denim industry—in addition to being an ardent supporter of sustainable manufacturing—many of his peers were resistant to seeing his vision of China-based fabric production.
The first year of business was difficult for House of Gold, according to Marrocco, but following year two, denim brands became more accepting of collaborations with mills in China. Now the business has a global network of clients who have looked beyond prejudgments to bring economical and more ecologically sound denim to more customers.
"The market, especially in L.A., was highly skeptical on China," Marrocco explained. "Some people questioned Adriano's choice to partner with a Chinese mill. Adriano is always a year or two or three ahead of the curve. Sometimes people don't know why he is doing what he is doing, but it's because he sees something others aren't yet."
Despite his collaboration with mills in China, Goldschmied still sees Los Angeles as central to denim and is working with Amsterdam's Wiser Globe, which has an 8,400-square-foot Wiser Wash development center in Paramount, Calif.
"Wiser Wash is a patented denim wash without stones, without chemical products and uses only one glass of water per jean," Goldschmied said. "It's a very strong innovation in terms of sustainability that I consider a game-changer. The way that we bring Wiser Wash to the market is that we make a joint venture in different countries where our customer can develop Wiser Wash products."
The partnership is also important for Wiser Globe to spread its sustainable-fashion message, which it has done through collaborations with Pepe Jeans London and Join the Pipe, an Amsterdam-based organization that promotes clean tap water for human consumption.
"The main reason for us to join forces [with House of Gold] is our mutual love for denim and moreover our mutual belief and recognition that something in the denim industry has to change," Wiser Globe's Head of Global Business Development, Musa Firat Cakici, said. "If all denim production worldwide were to be washed wisely, we would save up to 237.8 billion gallons of water per year."
Goldschmied hopes Los Angeles will become the "Silicon Valley of denim." Foreseeing a global industry shift from expensive, sustainably made apparel to more-affordable, responsibly sourced goods produced for mass consumption, he feels the city can fulfill two different roles in the denim business.
"One is being a giant development center where we can create the samples for the industry," he said. "On the other side, Los Angeles is still home to the best premium denim. Nobody makes a better product than L.A., and the natural place for luxury brands to produce denim should be L.A."