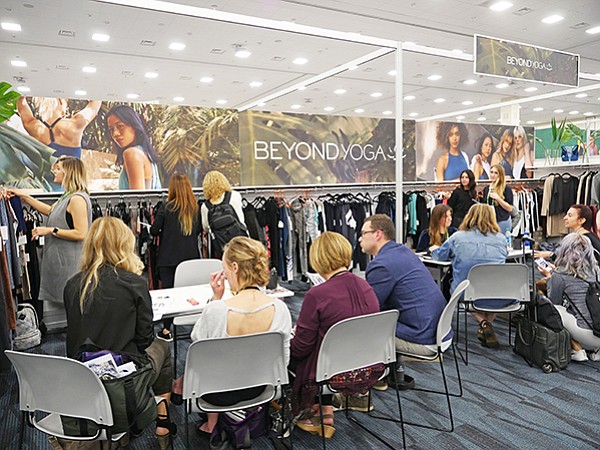 NEW SWIM/ACTIVE LOCATION
Swim Collective and Active Collective Unveil New Home
After eight years of exhibiting in Huntington Beach, Calif., across the street from the Pacific Ocean, Swim Collective and its sibling show, the 4-year-old Active Collective, moved their digs to the Anaheim Convention Center, not far from Disneyland.
The move from familiar beachside digs made some people wary. Eric Balfour of the Electric & Rose brand said he was a bit nervous about the change. "But it was just as busy," Balfour said of the new venue. "From a logistical standpoint, it was better."
Emerald Expositions, which owns Swim Collective and Active Collective, said the move was necessary to expand. In previous years, Swim Collective was only able to add three new vendors to the show. Because of the move, there were 20 new booths at Swim Collective's recent show, bringing the booth count to more than 110, said Jane Preston, vice president of sales at Swim Collective. Active Collective had more than 185 booths.
To make the most of its space in Huntington Beach, trade-show aisles were made six feet wide. With more space at the Anaheim Convention Center, aisles were 10 feet wide. The great majority of vendors did business at 10-by-10 booths with furniture and rolling racks that were provided by the show.
Retailers across the board were reported to be at the show. Nordstrom; Revolve; TJ Maxx; Foot Locker; Scheels All Sports, a sporting-goods chain headquartered in Fargo, N.D.; Diane's Beachwear; Hansen Surfboards; Jack's Surboards; and Evo, an online retailer of outdoor gear and fashion apparel headquartered in Seattle, were in attendance at the Jan. 11–12 show in the convention center's new North Hall.
Vendors at both shows said traffic and business was good. "This is a big show," said Joe Kudla, founder of Vuori, headquartered in Encinitas, Calif. "We come here to meet new accounts and open new doors."
"Every active buyer comes to the show," said Chelsea Smith of the Spiritual Gangster brand. The relative small size of the show makes it easy to do business. "It's not overwhelming like other shows," she said.
Eleanor Haycock of Year of Ours, a domestically made label, said it helped her brand to exhibit at a show with like-minded brands. Buyers at the show know what to expect. "They can afford our price point," she said.
At the event, emerging and established brands unveiled new lines and styles. Manhattan Beach, Calif.–based footwear brand Skechers introduced its first in-house activewear collection wholesale at Active Collective. It offers T-shirts, jackets and bottoms for men and women. Tops will wholesale at $12. Leggings will wholesale at $22.50, said Lauren Martone, national sales manager for apparel at Skechers.
She described Skechers' activewear line as practical and offering relaxed fits. The new activewear line will complement the brand's footwear. "We design for our shoe customer," Martone said. "It's about comfort, versatility and style."
Also making its trade-show debut was Nayali. The Los Angeles–headquartered brand manufactures stylish but supportive activewear for curvy women with tops with bra sizes that go from a D cup to a G cup, said Shilpa Rajpara, founder of Nayali.
At Swim Collective, Raj Swim exhibited its Sports Illustrated swimwear line. It took a bow in July during Swim Week in Miami. Looks from the women's swimwear line were photographed for "Sports Illustrated" magazine's popular swimwear issue, which is scheduled to be published in mid-February.
Long Beach, Calif.–based Tori Praver Swimwear introduced its mother-daughter swimwear line, Mommy and Me, at the show. Tori Praver's main line showed Spring/Summer '18 looks, which featured rose-gold clasps and other details along with the brand's distinctive smocking.
Made–in–Los Angeles swim line Cabana Anna showed swimwear made with lace shaped like a daisy.
Not every vendor sold activewear or bikinis. Simbi, a Port-au-Prince, Haiti–headquartered brand, showed bracelets and other accessories to raise funds for the nonprofit Aqua Haiti, which provides clean water for communities there.
Groceries Apparel exhibited its organic, California-made basics at the show. Matthew Boelk, the brand's cofounder, said it was the brand's first time at Active. "There was a lot of good traffic. It's a more intimate show. People take a lot of time to look at the booths. There wasn't as much paper as we'd like to see," he said of orders. "But we were happy with how many people checked out the line."
Trends at the show included "floating bra"–style tops and macramé swimwear, said Tracy Younger, cofounder of the Alcheme boutique in San Diego.
Other big trends included more vendors selling activewear socks. On the trade-show floor, some brands showed a new angle on the tennis look, which blended the softness of yoga wear with traditional tennis activewear looks, said Venius Adams, founder of Turbans by Venius.
More vendors were putting reinforced stitching into clothes to guard against fabric bunching up and rising up when worn, Adams said.
Bodysuits continued to be popular, and more activewear brands were becoming more fashion savvy. In the past, brand designers focused on clothes being functional. "Now the clothes have a great fit, they are colorful, and you can work out in them," Adams said.