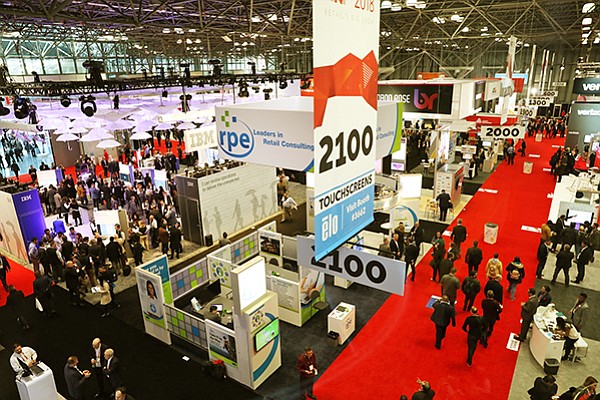 NRF'S BIG SHOW
Artificial Intelligence Overarching Theme at NRF's Big Show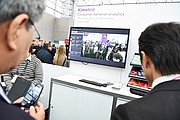 NEW YORK—The National Retail Federation's 2018 Retail's Big Show at the Jacob K. Javits Convention Center Jan. 14–16 was bigger than ever with 35,000-plus walking the aisles. It had more of a feeling of a New York City subway at rush hour than a trade show. Many attendees were still buoyant from 2017 holiday sales and seemed ready to buy new technology.
There was definitely a sense of relief that the "retail apocalypse" storyline has not played out the way many doomsayers predicted. Retailers in the United States raked in a record $7.9 billion in online sales on Black Friday and Thanksgiving weekend, up 17.9 percent from a year ago. And Cyber Monday hit a new record of $6.59 billion in sales, making it the largest U.S. online shopping day ever, according to a report released by Adobe.
Thousands of traditional chain stores closed in 2017, and online sales are expected to keep chipping away at the bricks-and-mortars, but traditional e-commerce companies are also taking a step into physical stores. Challenges and shake-ups will continue, and broken old models will need to be rebuilt, but one thing seems sure­­—the connected consumer is in charge. Retailers and brands have to create exciting experiences and have to keep consumers engaged, all while streamlining the shopping journey.
It was apparent the customer journey was top of mind in the aisles at NRF, with new technology a major step in removing the friction from the shopping journey to help better understand customer wants and expectations. So it was no surprise that artificial intelligence (AI) was an overarching theme throughout the show.
Nowhere was it more evident than in the special section of the show called Innovation Lab—Retail 2020. It featured an interactive showcase of the most innovative technologies transforming the way retailers market to, connect with and service customers. The featured companies seek to transform each stage of the shopping journey using the most recent advances in artificial intelligence, machine learning, facial recognition, big data, robotics, conversational commerce/digital assistants and more.
The Israel-based Mystor-E brings the e-commerce experience into bricks-and-mortar stores by enabling retailers to tell relevant and personalized stories to their customers. By shifting the effective online advertising model into the physical space, Mystor-E's platform enables retailers to use real-time data to drive relevant personalized content to their in-store customers via digital screens. The more the digital experience and content match the shopper's needs at a given moment, the more likely the shopper is to buy.
The New York–based Satisfi Labs creates end-to-end artificial-intelligence solutions for enterprise brands that want an easier way to communicate the right information, at the right place, in real time, to their customers. Customers talk with a brand on the Satisfi platform in a comfortable and conversational manner. No menus or multiple-choice questions, just the answer the customer is seeking. Answers are served in real time, any time, and customers avoid the frustration of waiting for available business hours or for a live person to respond to their question.
Findmine's outfitting engine blends the art of styling with the scale of automation, giving retailers and brands the ability to show shoppers complete looks. The New York–based company services over 4.5 million requests for outfits per day across e-commerce and mobile platforms. It also empowers sales associates to effectively be stylists, suggesting outfits consistent with a brand's vision. Drawing from analytics, it can recommend the highest-performing looks across a store. It can also "Complete the Look" via digital displays, magic mirrors and consumer apps that draw from products in a shopper's size and location in real time.
Slyce uses image recognition to power retail visual search. Its technology can efficiently and accurately find nearly any product from an image and enable customers to snap a photo with a smartphone to buy something or find it in a store. The Philadelphia-based company's advanced technology converts a photograph into hyper-specific product descriptions, which are utilized to search a retailer's product application programming interface (API) or product database.
Strypes—with offices in Bulgaria, Germany and the Netherlands—leverages dynamic 3-D visuals to power an interactive shopping experience for brands, helping them collaborate with customers on product design and styling. An interactive view into a product catalogue allows shoppers to craft not only a complete outfit but also the perfect living-room design and more. Consumers on average are willing to pay up to 20 percent more for personalized goods, and involvement in the design process creates a sense of ownership before products ever hit a shopping cart.
The Chicago-based Tangiblee helps online businesses gain more-engaged, confident shoppers who convert more often, increase their average order value and hold onto items purchased rather than return or exchange them. Its e-commerce visualization service transforms retailers' online catalogues into interactive shopping experiences. Using a retailer's existing onsite content, Tangiblee's service creates visual context and comparison features for every SKU and SKU variation. Online shoppers can easily understand how an item will fit their body and how it looks compared to another item.