SWIM/SURF
Siren by Seven 'til Midnight​ Lingerie Brand Launches Swimwear for Any Hour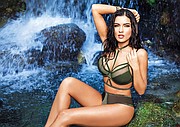 For Seven 'til Midnight, the third time is the charm when manufacturing swimwear. The lingerie manufacturer introduced a boutique swimwear line years ago, but the company's focus was forced to shift when the economy crashed.
After last year's successful swimwear launch under its Spreegirl juniors brand, Seven 'til Midnight decided to once again focus on a women's line. Staying true to its roots, the company decided to build upon lingerie designs when creating Siren by Seven 'til Midnight, according to Vinh Luong, who serves as the vice president for Seven 'til Midnight.
"We wanted to incorporate our lingerie heritage into our swim style," she said. "There are a lot of silhouettes that are similar to lingerie, and we could use this heritage in lingerie to deliver a fresh take on swimwear."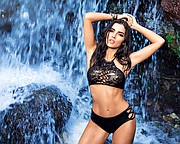 While the introduction of a swimwear line might seem to be a natural step for a lingerie manufacturer, Luong sees the launch as a business strategy to cultivate Seven 'til Midnight's presence as a fashion-forward lifestyle brand. During festival season, Luong has noticed the company's Instagram followers and influencers experimenting with the versatility of wearing lingerie and swimwear pieces as part of an outfit, providing a greater opportunity for Seven 'til Midnight to expand its reach.
"They style it like a little bra top or bandeau top and pair it with shorts or a skirt and jeans," she said. "The categories are much more fluid, and customers are mixing and matching."
With the success of Siren, Seven 'til Midnight will add to its line in 2019. The company will add designs for plus-size customers and accessories such as cover-ups, allowing more women to enjoy these edgier swimwear designs that include lingerie-inspired looks with perforations, strappy details and lace overlays.
The El Monte, Calif.–based company manufactures its swimwear in Colombia and Mexico, using polyester and elastane for its inaugural swim collection. Comprising 12 pieces, wholesale pricing for Siren by Seven 'til Midnight ranges from $4 to $25. The collection is available at select specialty retailers and at www.seventilmidnight.com.