RETAIL
Influential L.A. Boutique Traffic Unveils Remodel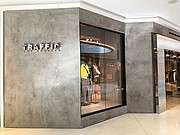 Los Angeles fashion retailer Traffic unveiled an extensive remodel of its men's and women's boutique at the Beverly Center mall near West Hollywood, Calif.
The remodel of the 34-year-old Beverly Center store was directed by London-headquartered Design Research Studio, helmed by star interior designer Tom Dixon, said Traffic co-founder/co-owner Michael Moldovan. The revamp is in addition to a $500 million remodel of the Beverly Center scheduled to wrap up later this year.
The retail center's designers wanted to take the former space of Traffic's men's store and use it for a common area with massive windows to provide shoppers with a commanding view of Los Angeles. In exchange, Moldovan secured the space of Traffic's women's store and grouped it with two adjacent boutique spaces for a new store.
The new space will feature about 3,500 square feet for the men's space, and the rest is devoted to women's styles. It will be divided by a stainless-steel "spine" or barrier, designed to give exclusivity and privacy to shoppers, Moldovan said. "It will bring more people in," Moldovan said of the spine. "If a man wants to shop with his wife, he can shop next door."
If people want to go to the other side of the store, they can walk past the spine at the front of the store.
The design was inspired by Traffic's past, present and future. The remodel features wood floors and concrete walls featured in the original Traffic. With an eye to the future, it also has suede curtains, a stainless-steel ceiling and Tom Dixon light fixtures.
Traffic is one of a handful of trend-setting, independent boutiques that started business in Los Angeles during the late 1970s and early 1980s. It continues to thrive in an era when physical retail is challenged by e-commerce. Traffic currently focuses on designer brands and high-end streetwear.
Moldovan said his shop survived for decades because he lives and breathes fashion. Alfredo Izaguirre, general manager/buyer for LASC, another long-lasting LA–area boutique, said that Traffic survived because it cultivated wealthy customers, often involved in media and entertainment. "It's always about, 'You're looking at something you will not see anywhere else,'" Izaguirre said.