TRADE SHOWS
SwimShow Generates Traffic for Big Brands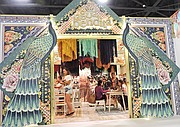 At the 36th annual SwimShow, the Swimwear Association of Florida hosted established swim brands, many of whom have a long history of exhibiting at the event, held at the Miami Beach Convention Center.
After traveling from Montego Bay, Jamaica, Alecia Newsome was positive about this year's event. The group operations manager for retail at Island Routes, a subsidiary of Sandals Resorts International, felt the offerings at the show were much improved from last year. "The show is very good this year. Everything seems on point in terms of what's trending," she said.
As a buyer for a retailer that sells to every type of customer—across categories from childrenswear to men and women—Newsome was searching for resort and swimwear for the entire family. To meet the demand of clients visiting the Caribbean, she was happy to see a lot of blues, including turquoise, and prints that reflect her region.
"Last year, some places went so fashion forward that it was not wearable. This year, I realized that they mixed a lot of the classics with traditional styles, and you can see styles that are indicative of the Caribbean now," she said. "It's subtle. It's tropical. It's wearable."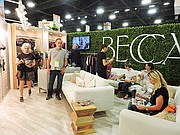 Sally Clarke, another buyer from Caribbean-based Eutopia, was a bit disappointed that there seemed to be fewer vendors than last year, but she was looking forward to working with two new resources.
"I come back every year," she said. "One of my favorite suppliers comes here and I get to meet her face-to-face every year."
At the booth for Manhattan Beachwear Inc., headquartered in Cypress, Calif., Howie Greller, vice president of design and merchandising, felt optimistic about buyer traffic. With 16 swimwear and resort brands—including the recently introduced BCBGMaxAzria and BCBGeneration—he understood how buyers could need additional time to consider their purchasing options.
"People are here taking notes. Sometimes they'll take their notes, go to the hotel room and come back," he said. "Some will write at the table, but it's harder for them because they have to absorb so much so quickly."
Rebecca Virtue, who is the chief design officer for Lunada Bay in Anaheim, Calif., has been exhibiting at the show for 33 years. She was showing the brands Becca by Rebecca Virtue, Becca Etc by Rebecca Virtue, Isabella Rose and Soluna. In addition to her scheduled appointments, Virtue was pleased to say that buyers were hearing about her line from other attendees and decided to visit her booths.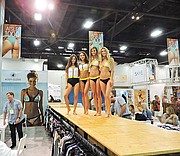 "It's been great for us. We had a lot of fill-ins—people just stopping by," she said. "We have appointments scheduled weeks in advance, but there have been a lot of people showing up from word of mouth."
To expand the brands' offerings this year, the company has larger sizes in swim tops to help women who have struggled with finding swimwear to accommodate a larger bust.
"Finding the extended sizes, which are a D bra, is now becoming a staple throughout all of our booths," she explained. "Trying to add that fashion into all of our styling gives this gal who has always struggled to find a bra an opportunity to have some flavor."
As someone who has exhibited at the show for 19 years, Noah Gellis, vice president of sales and marketing for SGS Sports, saw an increase in appointments each day at his booth, which represented Body Glove. He mentioned the show was busy, and there were many meetings scheduled for the show's final day, which is usually quiet.
"From all the numbers, traffic is up," he said. "I think [buyers] aren't here all the time. They are at other shows and then come here."
Buyers were interested in the storytelling behind the colorful booth at Agua Bendita, where co-founder Catalina Alvarez said stores were placing orders. "Every year is better than the last," she said.
The Colombian brand is not only run by and targets independent women but also helps to empower them through an initiative named AB Hearts, which employs local female artisans to create the hand beading on the company's swimwear—a unique touch that speaks to buyers.
"They [stores] want special pieces. Their customers want to have special things. Our special thing in each one of our pieces is the prints, and they are all handmade," she said.