RETAIL
Work Scheduled To Begin on Former Fred Segal Site in Santa Monica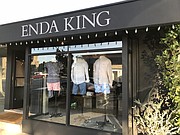 After a four-year wait, the former Fred Segal retail compound in Santa Monica, Calif., will see construction start in August to transform the former shopping hot spot into a seven-story residential building with commercial space.
It's all part of downtown Santa Monica's changing retail map, where one of the Los Angeles area's few pedestrian-oriented shopping districts is located.
The high-rise, mixed-use development at 500 Broadway, where Fred Segal opened an outpost in 1985, has a tentative debut date of 2020, said Jay Luchs, the vice chairman for Newmark Knight Frank,who is handling leasing for the new space.
Retail being considered for the 65,200-square-foot commercial space includes a café, a grocery store, a boxing studio and perhaps some Fred Segal–style fashion retail. Luchs thought it might be similar to the Brentwood Country Mart, which is a 10-minute drive away.
"It will have the same customer as the Brentwood and Malibu Country Mart," Luchs said. "They will be upscale, hip Los Angeles influencers."
Pioneering retailer Fred Segal was renowned for having some of the latest fashions and trends for the savvy shopper. The compound basically housed stores within a large store. In 2012, New York–based Sandow Media acquired the world rights to the Fred Segal brand for an undisclosed amount of money.
Then in May 2014, some of Los Angeles' top boutiques in the Fred Segal compound, including Ron Robinson, were told that they had to vacate the 500 Broadway building, where some had operated spaces for more than 18 years.
In 2017, 500 Broadway was sold by DK Broadway to New York developer Witkoff Group, run by Donald Trump pal Steve Witkoff, for an undisclosed amount. The company also owns the West Hollywood Edition and Residences. The Witkoff Group declined to comment on the project for this story.
Across the street from 500 Broadway, Fred Segal also rented out retail space at 420 Broadway. Matthew May of May Realty Advisors is handling retail leasing for that 24,000-square-foot building, which will undergo seismic retrofitting that wraps up at the end of August. Tenants moving into the building will mostly likely be retailers and creative-office tenants, May said. Madison Partners is handling office leasing.
A few blocks away from the former Fred Segal compound, more retailers are moving into other shopping districts. This fall, Burton Snowboards is scheduled to move its emporium, which has been in that location since 2007 and includes space for Channel Island Surfboards,from the 8100 block of Melrose Avenue near West Hollywood to 1460 W. Fourth St. in Santa Monica. The space was formerly occupied by action-sports retailer Active.
Burton did not return a call by press time requesting comment about the move.
Down the street at the Third Street Promenade, Japanese retailer Muji is scheduled to open a new space on the pedestrian mall while Tesla is scheduled to leave its 3,000-square-foot space on the Promenade and move to Santa Monica Place.
Another Santa Monica retail district experiencing increased interest is Montana Avenue, located five minutes away from the downtown area. Two retailers from the Abbot Kinney district in Los Angeles' Venice neighborhood recently opened boutiques there.
Burro—which sells gifts, toys and women's apparel—opened a shop at 1533 Montana Ave. in July, and Enda King men's boutique opened at 1030 Montana Ave. on Memorial Day weekend.
It is the second Enda King boutique, said owner Enda King, who said the clientele on Montana is different from Abbot Kinney because there are fewer tourists.
The Montana boutiques draw a lot of their clients from apartment buildings surrounding the area.