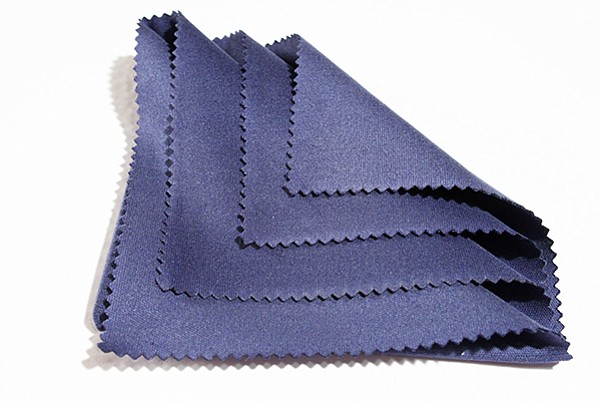 CALIFORNIA KILLS AB 2379
California Kills Assembly Bill 2379 as Similar Microfiber Initiatives Grow in Other States
It might have led the charge for similar plastic microfiber bills in New York and Connecticut, but California's Assembly Bill 2379 is off the table—for now.
In February, California State Assembly Member Richard Bloom introduced the bill, which would require clothing that comprises more than 50 percent synthetic material to include an additional label instructing consumers to hand-wash the apparel instead of using a machine. The bill was introduced after different studies suggested that microfibers—many of which measure less than 5 millimeters long—are threatening marine life. If passed in the California State Assembly, the law would have only applied to clothing sold in the state.
"Our next steps are to continue pursuing what we've started," said Sean MacNeil, who serves as Bloom's chief of staff. "Whether it's this exact vehicle next year or another proposal, plastic isn't going away, so we have to continue forward to address this problem."
The microfiber legislation fight
Opponents of the bill questioned how much impact an additional clothing label would have on environmental conservation and wanted to know more about the threat of these tiny pieces found in the oceans. Leaders within California's apparel industry were satisfied with their efforts to defeat the bill.
"It took a coalition of the industry's consumer-products organizations to get the message [to not pass AB 2379] into the hands of the legislators, with a direct aim at the politicians whose constituents would be affected. Those constituents are every retailer, large and small," said Ilse Metchek, president of the California Fashion Association.
As news of the bill's demise spread, Metchek said that AB 2379 was targeting retailers, which would create issues for sourcing, distribution and manufacturing partnerships.
"Let's not forget that the monitoring of hangtags would have become the legal responsibility of retailers; merchandise comes from a myriad of distribution centers, here and abroad, as well as from online websites," she said.
In addition to the legal implications faced by retailers in California, opponents of the legislation cited inadequate research as a reason to halt the progress of AB 2379. Some leaders in the apparel industry want to see the government invest more time into learning about the issue before proposing solutions.
"We agree with the California Assembly's decision to hold off on passing AB 2379 at this time," said Stephen Lamar, who serves as the executive vice president of the American Apparel & Footwear Association and president of the Washington International Trade Association. "Microfiber waste requires more research and discussion to understand its precise causes and impacts. Legislation that prescribes regulatory outcomes, such as labeling of clothing, absent a better understanding of the issue, is premature."
State of microfibers
For now, California-based retailers and manufacturers who sell clothing to partners in the state will not have to abide by the regulations outlined in AB 2379, but the initiative is gaining momentum in other areas of the country.
With a close resemblance to AB 2379, New York's Assembly Bill 10599 requires all clothing sold in the state that is manufactured using more than 50 percent synthetic materials to include additional labeling regarding potential microfiber pollution resulting from machine washing. Led by Assembly Member and Assistant Speaker Félix Ortiz, the bill was created in an effort to inform customers that the apparel they purchase could potentially shed microfibers upon washing if it's made of mostly synthetic materials.
"California is usually one of the most progressive states with these issues, which are very complex. I was disappointed [California's AB 2379 didn't pass]," Ortiz said. "New York is still in session, and I am hopeful to bring it to the finish line, to the floor. We have another six days left in session."
Despite the failure of AB 2379 to progress into law in California, there is no denying that it has inspired legislators in other states to take notice. For these politicians, it isn't simply about having laws passed in their own states. They are interested in shifting regulations on a national level.
"We've been working together to have a united bill. We are trying to reach out to legislators around the country," Ortiz said.
In Connecticut, State Senator Ted Kennedy Jr. led a successful campaign to pass House Bill 5360, which is the first law in the nation aimed at curtailing potential environmental effects of microfibers shed from clothing.
While California's AB 2379 and New York's Assembly Bill 10599 require additional labeling on clothing sold in those states, Connecticut's law took steps to create a group of representatives from the apparel industry and environmental organizations. The council will develop solutions for consumer awareness of this issue and make recommendations to the Connecticut Environment Committee prior to January 2019. At that time, the next session will begin and additional legislation will be considered.
"We need to engage the apparel industry to help Connecticut develop a consumer-awareness and microfiber-reduction action plan," Kennedy said in a statement after the legislation was passed.
If the current trend continues, the apparel industry will continue to see additional microfiber-pollution legislation arise at the state level throughout the country. As representatives from the apparel industry continue to monitor these bills, working with legislators to promote more environmentally sound practices isn't the problem cited by some fashion insiders. The issue is the method some politicians are promoting.
"We have urged lawmakers to refrain from taking action on legislation such as AB 2379 or similar bills in New York until research develops a supported solution to the microfiber issue," Lamar said. "Even with better research, we remain skeptical that a label is the right approach. Labels would only add costs and confusion without solving the underlying issue."