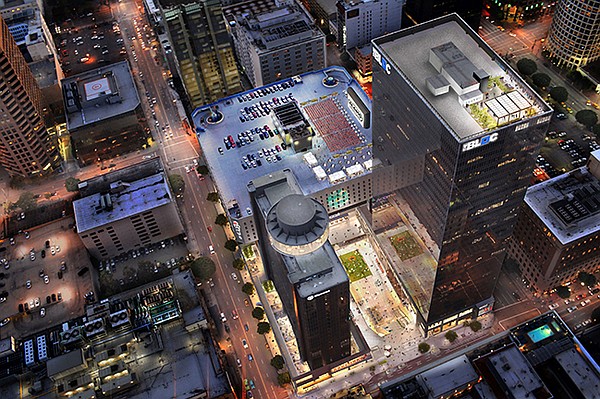 CBRE JOINS THE BLOC
CBRE Named as Property Manager at The Bloc
CBRE's portfolio at The Bloc mixed-use retail and business center in downtown Los Angeles has expanded.
CBRE, one of the largest commercial real-estate services in the world, will handle property management and office leasing for The Bloc, which wrapped up a $180 million remodel in 2017. CBRE formerly handled only office leasing for the 1.8 million–square–foot development, which offers shopping, dining and a Sheraton hotel, said Meg A. Byrne, The Bloc's branding and marketing manager.
"The retail, office and hospitality components are now positioned to work together, benefiting our office tenants, retailers and hotel guests as well as delivering an exceptional amenity for local workers and downtown residents," she said in a statement.
Retail leasing will continue to be handled by National Real Estate Development. The Washington, D.C.–headquartered company owns The Bloc. Its specialty is developing mixed-use projects.
The Bloc made news in April when The Ratkovich Co. sold its interest in the business to National Real Estate Development for an unspecified amount. Blue Vista Capital continues to serve as a partner in this venture.
Since the departure of Ratkovich, news was broken that Japanese fast-fashion brand Uniqlo signed a lease for a two-story space at The Bloc. The debut of the Bloc's luxe cinema chain, Alamo Drafthouse, has been delayed several times. The cinema chain's website said it will open soon.