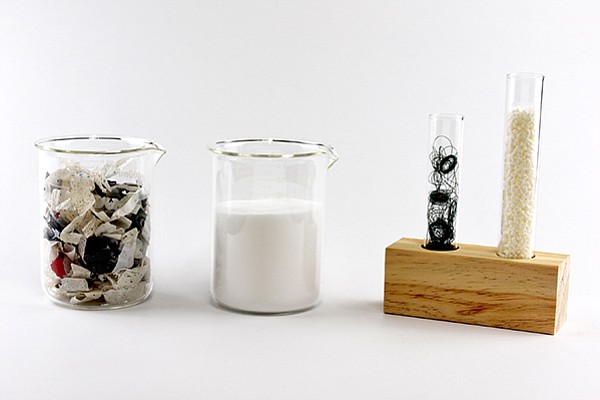 SUSTAINABLE APPAREL SCIENCE
BioCellection Breaks Down Sustainable Manufacturing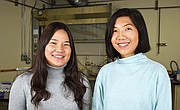 As pollution from apparel production continues to bring greater attention to clothing manufacturing, many companies are seeking more-sustainable materials to produce their goods.
Efforts such as The North Face's Renewed line sell refurbished styles at a lower cost to consumers. Los Angeles–based Upcycle utilizes yarns produced from recycled plastic water bottles and scraps that would otherwise go into landfills after production.
These initiatives have shifted fashion's manufacturing focus toward a more sustainable direction. According to Menlo Park, Calif.–based technology startup BioCellection, only 8 percent of the world's plastic packaging is recycled. The other 92 percent is too contaminated or difficult to recycle. Products such as plastic wrap have not been recyclable—until now.
Hailing from Canada, high-school friends Miranda Wang and Jeanny Yao have a long history of promoting environmental sustainability. As young scientists, they founded BioCellection in college when Wang was studying engineering entrepreneurship at the University of Pennsylvania and Yao pursued biochemistry and environmental science at the University of Toronto.
"Jeanny and I met each other in high school and we first started working on building an environmental organization after meeting at a volunteer recycling meeting," Wang said.
The company has developed a strategy that turns these plastics into chemicals used by textile manufacturers to make materials such as nylon that can be used to create apparel.
"What we have developed is a liquid chemical process, which is able to deal with surface contamination, the dyes, the plasticizers and handle inconsistencies in the plastic," Wang explained.
By collecting presorted plastic from a recovery facility, Wang and Yao shred the plastic to prepare it for processing, without any other washing or sterilization needed. At BioCellection, the focus is now on one of the most ubiquitous and threatening forms of waste—plastic film.
"We are targeting plastic film, or polyethylene, because it is already well sorted. We are starting with that first and we also accept rigid polyethylene as long as it's well sorted."
The company is able to convert nearly 90 percent of the waste within three hours with intentions of increasing that figure to almost 100 percent by fall 2018.
"Our process right now is not yet able to reach 100 percent because we are in a laboratory system, so a lot of the reactions can be further optimized," Wang explained. "We're actually doing a demonstration this fall, where we can increase the throughput of the reaction, turn it into a continuous system and be able to create close to 99 percent."
Once the waste is transformed, BioCellection's process yields a chemical, or renewable virgin grade chemical intermediate, that acts as the foundation upon which materials to produce apparel—such as threads—can be made.
"We are contributing to a circular economy by providing these chemicals that currently are only produced by petroleum and we're producing a renewable source for them," Wang said.
Through creating these chemicals during a process that bypasses the use of petroleum, in addition to using existing plastic waste, BioCellection offers a new approach to fabric manufacturing for textile producers that want to shift production toward sustainability.
"We are able to produce small samples at the lab right now—up to about 100 grams per sample. We are working on purification processing of these chemicals, making sure these chemicals are pure for the synthetic polymerization process," Wang said. "We expect in six months to a year we will be able to achieve the level of purity needed to supply the apparel industry."
The potential for BioCellection's solution is obvious when looking at apparel manufacturers who have shown interest in learning more about technology that promotes sustainable sourcing. At Adidas, sustainability has become a large component of the sport-apparel giant's framework.
"We are striving to bring more of these initiatives into our brand and do more sustainability work that can resonate with consumers. Things that can solve the problems, rather than addressing needs," said Maryam Mazloumpour, senior manager of FUTURE material engineering for Adidas. "We are interested in seeing how different technologies can adapt into our portfolio of products."
In addition to its Parley line of footwear and apparel, which is manufactured with Parley Ocean Plastic—a material created from upcycled plastic waste found on beaches and in coastal communities—the 2020 Adidas sustainability targets include improvements in water protection, energy conservation and investments in more sustainable materials sources to promote a circular fashion system. As the company works toward achieving these goals, it is investigating the most efficient, sustainable methods to evolve into a greener apparel brand.
"The whole concept of circularity is making a lot and selling a lot, but we also need to take back a lot and do something with it—it can be upcycling or downcycling," Mazloumpour said. "We get the same, consistent message from gen Z and millennials that they want to know where these products are coming from and where they're going to end up."
As millennial scientists, Wang and Yao are providing a resource that will offer a transparent line of sourcing and answer the questions their own generation is asking regarding manufacturing.
"We have visited a number of waste stations in the U.S. and Canada," Wang said. "We have also been spending a lot of time in those labs and, now, as entrepreneurs in our own laboratory, developing this technology."