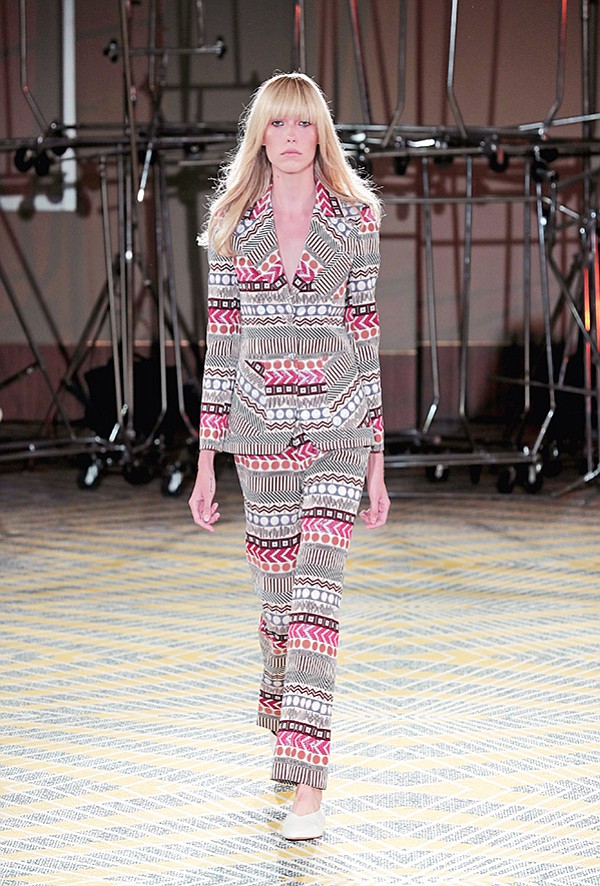 COOL COLLECTION 7
Wolk Morais Tries On California Cool for Latest Collection
Photo Gallery
Wolk Morais Tries On California Cool for Latest Collection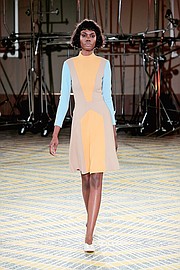 Photos courtesy of Getty Images
How's this pitch for a fashion line?
"[Art deco] painter Tamara De Lempicka picnics in Topanga Canyon whilst Helen Lundeberg and Lorser Feitelson paint and pontificate about the virtues of California cool."
The fantasy of historical art figures lunching together was the inspiration for Wolk Morais's newest collection, with 28 looks seen on the runway June 26 at The Jeremy Hotel in West Hollywood, Calif.
Some themes from past Wolk Morais shows made appearances in the array of styles called Collection 7. As with past collections, there was a focus on suiting for women and men. Also on view were long dresses that seemed to gain some inspiration from Hollywood in the 1940s.
Claude Morais, one half of the design duo, said many of Collection 7's looks were new. "The color palette was different. The colors are more earthy," he said. Prints seemed to take cues from the art-deco and surreal shapes in the work of De Lempicka and friends.
Runway looks included a jacquard mini-skirt suit, a maxi dress with a bronze starburst design and a tunic outfit as well as street-inspired looks. A one-piece item featured a mesh tank top bearing the Wolk Morais monogram.
The show also featured sculpture created by Canadian artist Bruno Billio. The installation—made from metal racks to hang clothes—served as the backdrop for the runway show.
Post show, Morais and Brian Wolk, the other half of the label's design team, led the models and runway-show audience across the street to the Fred Segal emporium, where there was a reception for the Wolk Morais boutique in Fred Segal, which will probably run until August.