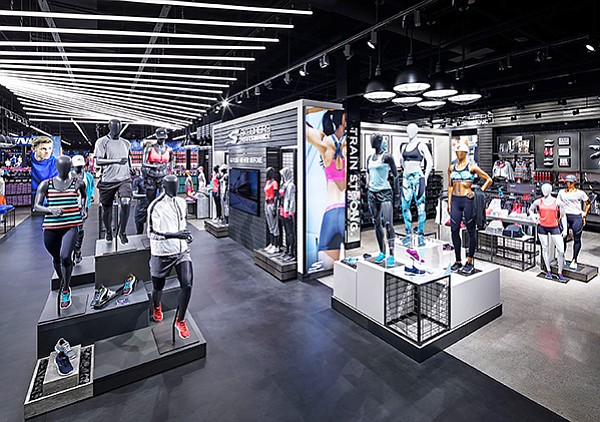 SKECHERS' APPAREL LINE
Skechers Makes First Wholesale Apparel Line
With more than $4 billion in net sales in 2017 and a fleet of 2,750 stores aross the world—645 of them are company owned—Skechers USA Inc. has been ranked as the second-best-selling sneaker brand in America.
But even with that success, it has been looking for ways to expand and extend its profile. From its headquarters, located in affluent Manhattan Beach, Calif., Skechers came up with the concept for Skechers Apparel, a new wholesale apparel line that was introduced at the Active Collective trade show last January in Anaheim, Calif.
About six months before the men's and women's wholesale apparel line was at the trade show, the company hired Lauren Martone to guide it to market. "It feels like a startup," said Martone, Skechers' national account manager, apparel. "There's a lot of firsts happening. We're working with certain wholesale clients for apparel for the first time. We're figuring how we want to go to market with them. There's a lot of passion and energy. There's a lot on the line. It's a new piece."
Along with wholesaling, Skechers Apparel will be rolled out in the company's 117 concept stores in the United States and made available at the company's 120 concept stores overseas.
It almost seems to be a requirement that major sports footwear brands expand into apparel. Nike, Adidas and Under Armour all make clothes. Skechers has manufactured some apparel lines in the past, but they weren't sold to other retailers.
Clothing was added to the running-focused Skechers Performance line in 2014. Some Skechers Performance pieces will be included in the wider Skechers Apparel line.
Like the brand's shoes, Skechers Apparel will offer an extended size range, going from extra small to 3XL. "We want the line to be approachable and wearable," Martone said. "You are getting the same quality as other popular brands but for a lower price."
Tops will retail from $26 to $30. Leggings will retail from $44 to $49. Retail price points for jackets will range from $54 to $69.
The apparel line is forecast to appeal to anybody who shops at Skechers. "We're selling items with multiple end uses. They wear it to run errands, go to yoga, have a nice supper," Martone said.
Some of the line's bottoms, such as the "GOWalk" bottom, which is a four-pocket pant, will be cut to specifically go over popular sneakers such as the "GOWalk."
Skechers is planning to invest in a lot of floor space for its new apparel line, which will occupy as much as 25 percent of the space at the Manhattan Beach concept store. There's a focus on convenience. "It's easy to grab and go," Martone said. "If it's a hoodie, they can throw it over a shirt. It's an easy step."
Some fabrics in the line have branded names. Skechweave is a four-way-stretch woven fabric that is wrinkle resistant. It is used in the "GoWalk Excursion" pant. The Skechluxe is described as a soft, stretchy knit used in the "GoWalk Monsoon" jogger bottom and the "GoEverywhere Hoodigan" sweater. There's also the Skechtech moisture-wicking poly-blend fabric. The GoKnit Ultra is a double-knit fabric.
Styles include track pants; jogger pants; the "Hoodigan," which features no buttons or zippers and two pockets in the front; and a men's jacket called the "Avalon," which features four pockets in the front and two pockets on the side.
With the expansion of its apparel line, Skechers is also expanding its real estate. The company will be building a 100,000-square-foot showroom and a 20,000-square-foot office building in neighboring Hermosa Beach, Calif. It also is remodeling its Manhattan Beach concept store.
Recently, the company signed a three-year lease for a 365,000-square-foot warehouse in Moreno Valley, Calif., where Skech­ers will expand from its adjacent 1.8 million-square-foot warehouse building.