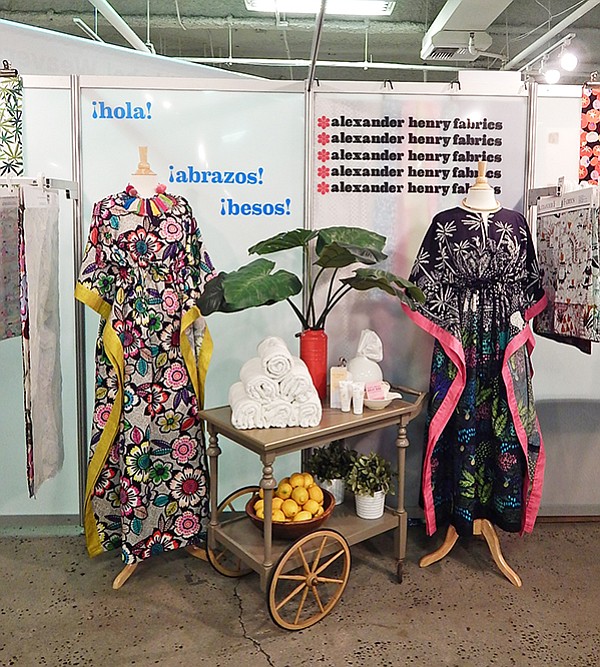 LA INTERNATIONAL TEXTILE SHOW
Standouts Sell at LA International Textile Show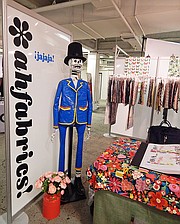 Now in its 25th year, the Los Angeles International Textile Show at the California Market Center brought together manufacturers, designers and production specialists who attended the three-day show, which took place March 5–7.
Attendees could find fresh takes on materials for their lines and discover valuable information regarding topics such as branding, design and technology at seminars that took place throughout the course of the event.
Although they couldn't identify a clear reason for the change, many vendors and attendees commented on the decrease in the number of booths.
"We've noticed that this show is a little bit downsized. There seems to be less exhibitors and maybe a few less customers," said Dan Rimmon of Rimmon Fabrics.
Certain exhibitors noticed a decline in customer traffic from clients who would travel from other regions to attend the show in the past.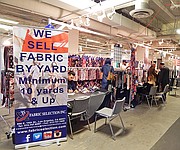 "Overall, the show was good. We didn't get that many customers from the East Coast," said Sean Zarini, who is a manager at Fabric Selection Inc. "I don't know the reason, but most were local from around here."
Though competition might not seem as fierce with a smaller pool of manufacturers, the challenge lies in anticipating the designs that will attract business.
"Since we work on speculation, we bring what we believe people are going to like," said Eli Khoubian, partner at City Textile. "Since there are vast kinds of customers who come in, they could all be looking for something completely different."
Despite the noticeably smaller booth presence, many vendors were finding success, as customers sought more accessibility from Los Angeles–based suppliers.
"There are definitely a lot more options out here. Better prices in comparison to Italian fabric and Colombian fabric. Transportation is easier. Shipping from LA, there are more options now, so clients are loving that," said Zenda Ortiz of EBI Fabrics Corp.
With the Made–in–Los Angeles message being a useful selling point for many brands, overseas companies that were showing their lines faced the challenge of convincing attendees that they could provide competitive services that would rival domestic sources.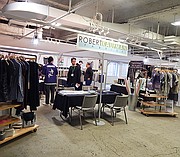 "We meet new customers every time we come," said Jenny Crocker, a sales representative from Australian line Martin & Savage. "They are excited that we're Australian, but they do think we're too far away, so we have to convince them that we're not so far away."
Supporting local Los Angeles business is a priority for designers who want to contribute to the potential growth for materials sourcing in the region, but some were questioning whether or not the city's industry is prepared for this opportunity.
"Five years ago everything was 'China! China! China!,' and now we're planning to bring back everything to the U.S., but are we ready for it to come back?" asked Stela Perez, executive designer of A Cut Above the Rest LA.
Roller-skate designer Michelle Steilen is collaborating on a line of bags for her Moxi Roller Skates and attended the show with her business partner, Stacy Wright, who designs the Trixie B True accessories line. The pair was happy with their experience, which yielded many promising new partnerships.
"I live in Northern California and have been to a few of these sort of things up in San Francisco, and this is way bigger," said Wright, who also took advantage of the seminars that were offered. "This is just bigger. A lot more people."
Designers who have returned each year feel the show remains an excellent resource to find unique materials to keep their designs fresh. San Francisco–based Rickie Lee of Lee Rickie Collection creates menswear using traditionally feminine fabrics, and although he noticed there were fewer vendors at the show this year it's still an event that he values.
"To stay competitive and different from all the other brands you have to source fabrics that are not local. Everything that they have here—the notions, the buttons—it's different," he said.
Providing a unique experience to attendees at the show was an important tactic for manufacturers. In contrast to other businesses that weren't pleased with the show, Alexander Henry Fabrics, the cotton-print supplier, received a lot of traffic coming through its colorful space.
"I am not saying that we definitely wrote business from it, but pretty sells," explained Phillip de Leon of his brand's booth. "Pretty attracts, so you make it pretty, they will come. So, at least they will come because they are interested in what's going on."
In addition to a visual experience that set apart certain booths from others, promoting new services to attract the shifting needs of their clientele helped manufacturers increase booth traffic. As designers now request different production timelines and methods from their suppliers, vendors at the show found success in meeting these changing demands.
"We recently introduced a digital-printing program, so that has been one of the most popular things and that is perfect for the marketplace right now," said Ron Kaufman, sales manager of the manufacturing division at his family's 76-year-old company, Robert Kaufman Fabrics. "Everybody wants more flexibility right now."