RETAIL
Westside Pavilion to be Remodeled Into Offices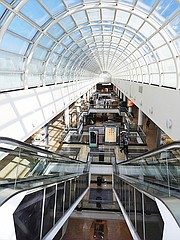 Facing a future as a mall with no traditional anchors, Los Angeles' Westside Pavilion will be undergoing a major revamp to turn it into creative offices.
On March 5, Westside Pavilion owner Macerich Inc. announced it had formed a joint venture with Hudson Pacific Properties Inc. to redevelop the 600,000-square-foot mall into 500,000 square feet of creative office space. The remaining 100,000 square feet will continue to operate as an entertainment/retail space housing the Landmark Theatres, which focuses on independent and foreign films.
The joint venture will be 75 percent owned by Hudson Pacific and 25 percent by Macerich. "Our joint venture with Hudson Pacific will enable us to maximize the value of this incredibly well-situated real estate with dynamic new uses—something Macerich has always excelled at. Hudson Pacific brings great expertise in the creative-office-space segment, and we are pleased to partner with them on this exciting, high-visibility project," said Art Coppola, Macerich's chairman and chief executive officer.
The project's cost is estimated to be between $425 million and $475 million. Construction is scheduled to be completed by mid-2021 on the mall, which opened in 1985. Hudson Pacific will act as the property's day-to-day operator and developer.
Victor Coleman, Hudson Pacific's chairman and chief executive officer, said there is strong demand for creative office space on Los Angeles' Westside. Other Westside developers have been remodeling retail properties into creative office space.
In 2016, the Platform bowed in Culver City, Calif., as a compound for retail, dining and creative offices. A year later, Platform owner Runyon Group took on leasing duties for the Row DTLA compound in downtown Los Angeles, which offers a mix of retail, dining and creative office space.
The Sears located on Colorado Avenue in Santa Monica, Calif., closed last year and is being remodeled by Seritage Growth Properties into The Mark 302, which will have creative office space on the upper levels and boutiques and eateries on the lower levels.
The decision to convert Westside Pavilion into offices was made after the mall's two major department stores moved to Westfield Century City. Nordstrom was enticed to the mall after it underwent a $1 billion renovation, and Macy's revamped its existing store at the mall, located only a few miles from Westside Pavilion.
Redeveloping malls and buildings into destinations with offices, retail and other uses such as fitness studios, civic buildings and doctors' offices is part of a trend called "blended uses," said Larry Kosmont, president of Kosmont Companies, a real-estate consultant to cities and retailers.
Developers want to build places with a multiplicity of uses. "It's a blending of destinations. It will convince people to leave their computers long enough to go to the blended-use destination," Kosmont said. "It's the future of where the development business is going."