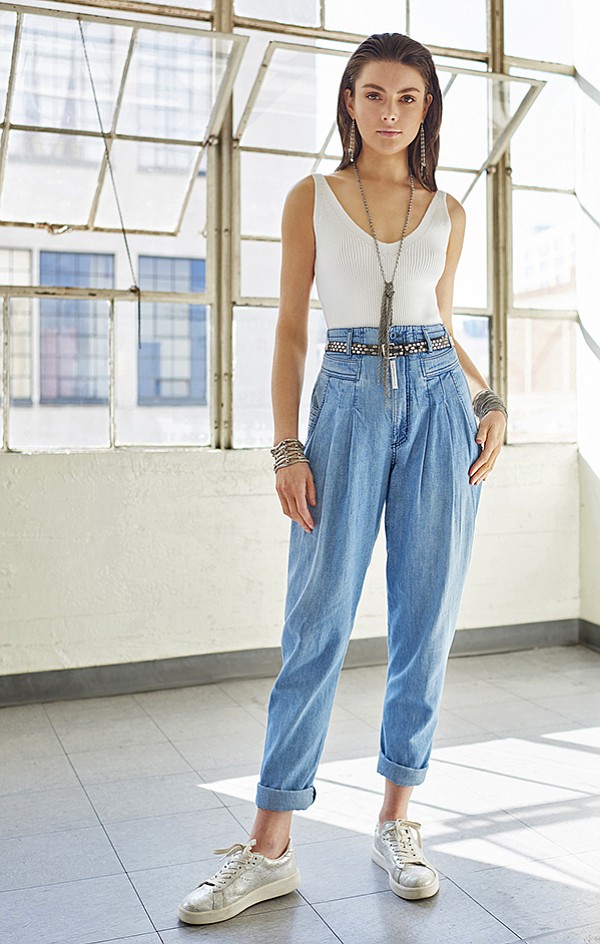 Z.CAVARICCI
Z.Cavaricci Invests Deeper Into Comeback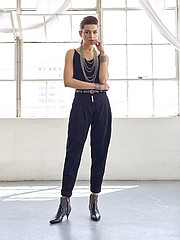 When you think of fashion from the 1980s and 1990s, the Z.Cavaricci brand might come to mind.
With its high waist, baggy legs and tapered ankles, it was worn in the more stylish enclaves during the era of Presidents George H.W. Bush and Bill Clinton.
It was so popular that in 1991, Jim Cavaricci, the brand's founder, said he sold 3 million pairs of the line's "Cateye" pants. At its peak, revenues for the company reached $140 million.
But about a decade ago, the designer pulled the plug on the brand because he didn't like the direction the label was heading. "Somehow we found ourselves in juniors," he said. "I didn't like it. I was tired of people beating us up for prices. We closed and walked away."
Since then, Cavaricci has worked from Orange County, Calif., as an investor. The only places fans could find his unique styles were in vintage shops. But in late 2017, Cavaricci decided to see if there was any interest in the brand's signature look, making a limited edition of the brand's most popular style—the "Cateye"—for a contemporary fashion crowd. It was made in Los Angeles and sold for $245 through the website www.zcavaricci.com, which is headquartered in Laguna Hills, Calif.
Now the brand is investing in wholesaling the line. In early March, Cavaricci made deals with two showrooms to represent the brand. In Los Angeles, the label is represented by Kathy Walker Sales in The New Mart. In New York, it is being sold by the Hotline Showroom. Recently, the line was picked up by Shopbop.com.
Cavaricci said he was reluctant to return to fashion. But in 2017, fashion veteran Glenn Williams, currently the brand's design director and vice president, told him that the time was right to try it again. Williams argued that the fashion cycle was coming back in Cavaricci's favor.
High-waisted pants had become popular. Full-legged, pleated pants also were back in vogue. "I said, 'Let's put it online and see what happens,'" Cavaricci said. "Why don't we put it in a couple of stores? We had great success."
The brand might have great name recognition to the Generation Xers who originally embraced it, but the current crowd of millennials is another story.
"Nothing I know of comes with a guarantee to sell well—comebacks or new brands," said Ron Robinson, whose self-named stores are celebrating their 40th anniversary. "Retailers evaluate products on whether they believe it will sell to the consumer and if the name has positive market value."
Stylist Yolanda Braddy said that the fashion scene these days relies on the looks from 20 and 30 years ago. But there is no such thing as an exact copy of past styles.
"There's always a little twist. A designer may do a high-waisted jean, but they aren't made as tight. They use fabric with more stretch," Braddy said. Fabrics made today are different than the fabrics made decades ago and change the look and feel of clothes, she added.
The 2018 looks for Z.Cavaricci focus on the brand's "Cateye" silhouette made of Japanese denim, which comes in a light indigo wash or dark denim wash. The "Cateye" trouser also comes in twill with several colorways: black, burnt orange, olive and white.
Next up, the Z.Cavaricci line will introduce men's styles and more women's looks.