MANUFACTURING
A Clothing Label to Fill In the Gaps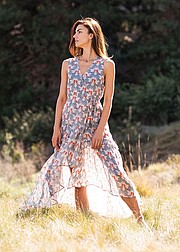 After years of being surrounded by pixels and algorithms in the tech industry, Scott Carter was ready for a change. His next career move was to transition to the fashion industry and start a new label called Kiln.
The womenswear and menswear brand, headquartered in downtown Los Angeles' Arts District, was designed to fill a hole Carter saw in the fashion world.
He felt there wasn't enough of a middle ground between casual and formal styles. It stemmed from his Silicon Valley years, when he only had two looks in his wardrobe: either casual T-shirts or business suits for meetings.
"There must be something in between. I could never find it. I assumed that a lot of people had the same issue," Carter said.
He set out to find a design partner with a similar quest. Friends and consultants introduced him to Sandy Fleming, who had spent a pattern-making career working for brands including Alternative Apparel and Proenza Schouler.
Last month, they opened an office in a converted warehouse at the edge of the Arts District on a street going through a revival with boutiques and restaurants. The Kiln space houses offices, mood boards, racks of samples and unique furniture, including a table that once was a bookbinding press that is more than 90 years old.
Like Carter, Fleming had been brainstorming ideas about creating clothing that had a casual but fashionable vibe to it. It needed to be something that endured and held up, much like pottery being taken out of a kiln, hence the inspiration for the brand's name.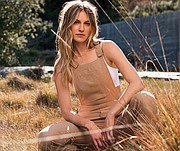 The clothes also had to follow the "plus or minus 10 rule."
"If you lose or gain 10 pounds, it will still flatter you," Fleming said of the clothing she wanted to make.
Many of Kiln's women's pieces have straps, buttons and elastic to give the wearer the ability to follow the plus or minus 10 rule. For example, you can tighten or loosen fabric straps to allow the garment to give a lot of space or be form fitting.
Function is important on one pair of women's shorts, which comes with leather tabs in the pocket to hold phones. Style is a big deal too. A three-quarter-sleeve button-down shirt features a vent, which gives the T-shirt a unique hem on the top's back.
A middle ground between dressier clothes and casual clothes can also be found in Kiln's men's line. There's a button-down hoodie, which has the light feel of a hoodie but has coat pockets for a dressier look. Men's T-shirts have a signature stitching on the shoulder.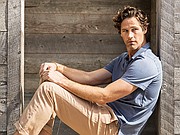 The men's line also follows the plus or minus 10 rule. Waists on pants and other bottoms are elastic.
Both the men's and women's collections go large, with men's sizes being offered up to a 2X and women's sizes going up to a 16.
While Kiln's garments are manufactured in limited runs in Los Angeles, the company sources fabrics—including jersey, canvas, washed silk, rayon georgette and linen—from around the world.
Kiln's 90-piece Spring/Summer 2018 collection includes dresses, fashion overalls, shorts, loose-fitting pants and T-shirts for women, and T-shirts, pants, shorts, short-sleeved, collared shirts, hoodies and jackets for men. Retail price points range from $115 to $650.
Retail's transformation is another reason Carter wanted to try his hand at fashion. "There is an opportunity to take part in a change in the way that consumers buy their apparel," he said. "We're all learning as we go along."
With that idea in mind, the line is being sold, starting May 10, at the company's website at www.kilnapparel.com.