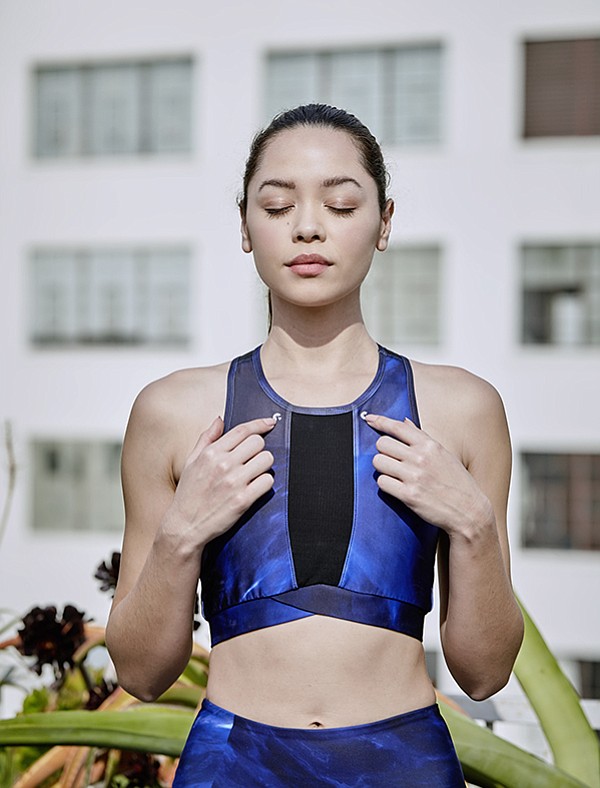 ACUPRESSURE ACTIVEWEAR
Ghost Flower Blends Apparel Innovation With Eastern Medicine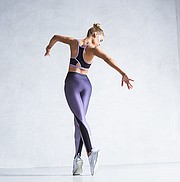 When avid tennis player and marathon runner Susie Peebler woke up one morning unable to move, she couldn't understand the cause of her injury. After her doctor recommended back surgery, she instead self-healed through yoga. As a geophysicist, Peebler wanted to know the scientific reasons behind her relief and sought answers through Chinese medicine.
"Stretching away pain and changing the fascia and allowing what is called 'qi' [in Chinese medicine] to run smoothly is so powerful," Peebler explained. "It's this whole web, not unlike your nervous system, where you don't even know it's happening. It's like an operating system running behind the scenes but you only recognize it when it goes wrong like when you have a pinched nerve."
To help women avoid injuries similar to her own, Peebler set out to create activewear designed to aid women in identifying different pressure points on the body, which will release energy through channels called meridians. After searching for yoga apparel designed according to the body's meridians, she found nothing but decided to draw lines denoting these channels on her own yoga apparel. This prototype became the foundation for her Ghost Flower brand, which launched in March and is named for the flower that Peebler witnessed blooming in the California desert while driving with her husband, Bob, during a rainstorm.
"Ghost Flower, with its translucent petals, is both beautiful and resilient," she said. "This resonated with our idea of having activewear that is more than skin deep—it also provides a deeper understanding of the body."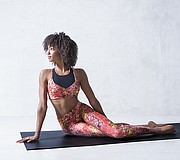 Yoon Chung, former chief design and merchandising officer for Carbon 38, who now serves as Ghost Flower's chief executive officer and is an avid skier, shared Peebler's dedication to natural methods of healing the body. But she also sees a large opportunity for apparel makers to expand into clothing that contributes to maintaining health by blending advanced manufacturing methods and innovative fabrics.
"Fashion meeting activewear was a thing four years ago. Now I think the industry is evolving," Chung said. "It's not about the fashion. It's about the wellness. What is lacking in the industry is wellness wear. I think there is a big void in the wellness industry."
The sports bras, tank tops, leggings and jackets in the Ghost Flower line include the brand's logo strategically printed on the clothing to represent the places where customers press to access the body's acupressure points, which can alleviate potentially injury-causing stress.
"You can press and gently massage targeted acupressure points to release muscle tension and unblock and reactivate restricted energy," Peebler said.
Taking inspiration from Eastern medicine's five elements of water, wood, fire, earth and metal, each with yin and yang channels, Peebler and Chung designed different lines within the Ghost Flower collection to reflect these concepts. Healing the body requires a comprehensive understanding of the complex network of fascia and muscles, but creating a line of clothing that aids in wellness demands innovative fabric and skilled manufacturing.
"We had to do a lot of problem solving with manufacturers too, because some of these lines are very tricky to make all the meridians and corners," Chung explained. "We had to go to the sample room, work with them and figure out how we were going to manufacture them."
Through their Los Angeles–based manufacturer, the women ensured that the body's channels would be represented through detailed flatlock seams sewn into the clothing at the 10,000-square-foot factory, which employs 100 sewers.
"The intricate seams went through a rigorous process through a flatlock machine to ensure they were as precise as possible and followed the organic lines in the body's energy channels," Chung said.
In addition to creating seams that help their clients visualize the body's meridians, Peebler and Chung added details such as double mesh and keyhole designs on Ghost Flower's sports bras. Jackets were designed to feature pockets with hidden zippers and thumbholes.
Despite the varying shapes of women's bodies, Ghost Flower's designs accommodate different sizes. The designers carefully plotted the location of the body's pressure points and meridian channels for each size offered by the company.
"As everybody varies in size, so do the locations of these energy channels and acupressure points," Chung said. "In order for the flatlock seams to be as precise as possible, following the body's energy channels, Ghost Flower's design team created custom templates for every size from XS through L."
In addition to the innovative methods necessary when sewing the pieces, using fabric that afforded compression and drying capabilities was a priority. The Italian nylon used to make the pieces is 84 percent polyamide and 16 percent elastane, yielding a four-way stretch that provides comfortable compression without feeling restrictive.
"Everybody loves the material. It's the kind of material where you put it on and it feels like light compression. It makes you feel a size smaller, but then you sit in it and you forget you have it on," Peebler explained.
As Peebler and Chung focus on building a Ghost Flower community through partnerships with yoga studios such as New York City's Sky Ting and Santa Barbara, Calif.'s Yoga Soup, their partners are grateful to have additional resources that will help educate their clients. "It has reminders of this dimension of ourselves built into the seams and details of the pants and tops," said Luca Cupery, instructor and manager at Yoga Soup. "I don't know of any other company that has had the inspiration to educate, empower and inspire in this way."
Ghost Flower's pieces, which wholesale from $17.50 to $92.50, are gaining a strong, selling online at www.ghostflower.com.